Almost ten months after Tesla delivered the first Semi to PepsiCo in December 2022, performance results from its first independent practical test are finally available.
This initiative is part of the program "Run On Less" of the North American Council for Freight Transportation Efficiency (NACFE), whose goal is to test the performance of electric commercial vehicles under real-world conditions.
One of the outstanding protagonists of this test is the Tesla Semi Of these, PepsiCo has 21 units in Sacramento, California, among other commercial electric vehicles.
Short and long distance routes for the Tesla Semi
PepsiCo, which received the Tesla Semi late at the time, used these trucks to cover both short and long delivery trips.
Although most of the fleet regularly travels distances of less than 100 miles, three of the semis attempted it Cover distances of up to 725 kilometers a performance that matches Tesla's claims of an estimated range of 800 kilometers on a single charge.
The NACFE reported that Tesla Semis would be tracked in long-distance heavy-duty transportation. Participant profiles show the trucks would travel two routes around Sacramento for 18 days.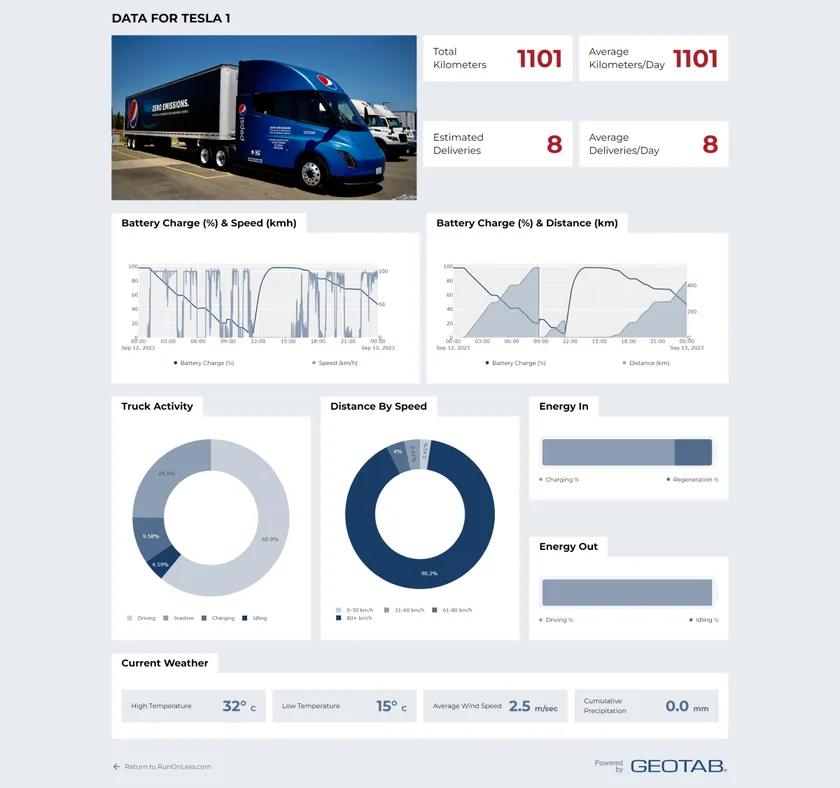 The first route covers distances between 400 and 725 kilometers, with a Permissible total weight up to 37 tons. The second route now covers less than 120 kilometers per day and is characterized by a gradually decreasing payload.
5 relevant facts about the autonomy tests under real conditions of the Tesla Semi:
autonomy– During testing, a Tesla Semi managed to travel 606 km on a single charge, an outstanding performance in real-world road conditions.
Variety of routes and loads: The Tesla Semi covered distances of 400 to 725 km per day, with loads of different weights and characteristics, testing its versatility and adaptability.
Efficient energy consumption: The Tesla Semi showed very efficient energy consumption at less than 1.3 kWh/km, which underlines its effectiveness in terms of energy efficiency.
Estimated battery capacity– Although Tesla has not officially announced the battery capacity, estimates suggest that the 800 km version could have a battery capacity of around 850-900 kWh.
Competence in sustainable transport: In addition to the Tesla Semi, other test participants such as the Schneider National and Performance teams are helping to advance electromobility in freight transport and thus underlining the growing importance of sustainability in the industry.
This data provides a brief overview of the results and highlights of the Tesla Semi's real-world range testing.
More than 600 kilometers under real conditions
On the first day of testing, one of the Tesla Semis traveled 539 kilometers on a single charge with around 17% of battery capacity remaining. According to the information, this operation was carried out on the highway at a constant speed of 100 km/h.
The second semi-trailer reached a distance of 475 kilometers and remained at approximately 21% of its capacity. The third semi-final surprisingly reached a margin of 606 kilometers before the battery was discharged to less than 2%.
However, it is important to note The temperature on the first day was 34ºC However, other factors that affect range, such as elevation changes, driving patterns and the exact load carried, are not completely clear.
The Tesla Semi is equipped with three independent electric motors on the rear axle, giving it a stated energy consumption of less than 1.24 kWh/km. Recently, PepsiCo even claimed to have achieved an efficiency of 1.1 kWh/km.
Although Tesla has not officially announced the battery capacity, estimates suggest that this is the case for the 800 km version approx. 850-900 kWh battery capacity. In addition, the semi has a significant advantage in terms of slope performance compared to diesel trucks.
An open test for various electric trucks
This exciting test project is not just limited to the Tesla Semi, other participants such as Schneider National with Freightliner eCascadia and Performance Team with Volvo VNR are also helping to uncover the secrets of electromobility in freight transport.
The results of these tests provide valuable insights into the present and future of electric commercial vehicles in the real world, driving the transition to more sustainable mobility.