Asia-pacific stocks
Asian shares ended lower today in a session marked by uncertainty about the US debt ceiling.
Chart: Asia Stocks May 24/WSJ
This morning New Zealand raised its interest rates by 25 basis points, from 5.25% to 5.50%, as expected.
The Hang Seng, the benchmark index of the Hong Kong Stock Exchange, closed down 1.62% today.
The most pronounced declines were those of promoter Longfor Group (-7.88%) and technology company Lenovo, the world's largest personal computer maker, which fell 7.65% after announcing that it earned 21% less in its last fiscal year.
On the other side of the coin were photovoltaic panels maker Xinyi Solar (+4.19%) and infrastructure group CKI Holdings (+2.3%).
Europe market
European shares were also lower as little progress in US debt ceiling talks, a jump in UK core inflation and further losses in large luxury stocks weighed on risk sentiment.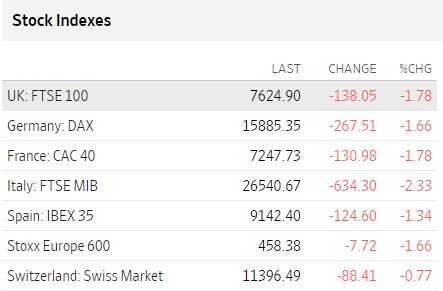 Charts: European Stock Markets May 24/WSJ
The European Stoxx 600 index was down 1.1%, near a three-week low, as all regional markets traded in the negative.
After UK price rise figures hit an all-time high in 31 years in April, property values ​​fell by the most in Europe, 2.5%, with UK homebuilders among the biggest losers, amid fears of a further rise in interest rates. strengthens the stakes. Bank of England.
The luxury stock fell 1.7% to a six-week low as Tuesday's slide showed no signs of abating.
Embracer fell 38.2% to a record low after the Swedish gaming group said a key strategic partnership would not materialize and cut its full-year adjusted EBITDA forecast.
In macroeconomic contexts in Europe, UK PPI and CPI, the current situation in Germany and the monthly report from the Bundesbank are prominent.
US market
US markets will open lower on fears of the next government 'default', which has affected other sectors.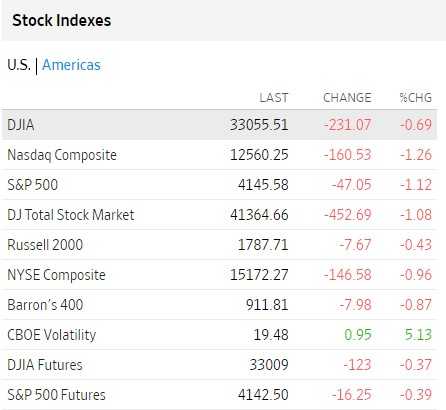 Chart: US stock market May 24 / WSJ
Wall Street stocks fell sharply on Tuesday and short-term Treasury yields rose on investor jitters as a lack of progress in debt ceiling talks.
It follows another round of failed talks between US President Joe Biden's representatives and House Speaker Kevin McCarthy on raising the country's debt ceiling to $31.4 trillion.
Fears are growing that the animosity between the two sides will make it difficult to reach an agreement before the government runs out of money to pay its bills, which would lead to an unprecedented US default, which would have dire consequences for the global economy.
Treasury Secretary Janet Yellen has said that this so-called "X-date" may come on June 1.
This Wednesday, in addition, the minutes of the last meeting of the FED are published.
Today the figures for Nvidia, Snowflake or Naturgy, among others, would be known.
Oil today
Oil prices rose on Wednesday after data showed tightening US fuel inventories and supplies and a warning to speculators from Saudi Arabia's energy minister raised the prospect of further OPEC+ production cuts.
Brent crude futures were up 1.46% at $77.96 a barrel, while West Texas Intermediate (WTI) crude was up 1.63% at $74.10 a barrel.

Chart: Oil May 24/Finviz
Saudi Arabia's energy minister said short sellers – those betting prices will fall – should remain "vigilant" for pain.
Some investors took this as a sign that the Organization of the Petroleum Exporting Countries and its allies, including Russia, also known as OPEC+, could consider further production cuts at a meeting on June 4.
"Oil prices are trading higher … buoyed by Saudi Arabia's latest short-selling warning," said Craig Erlam, senior market analyst at OANDA.