Fulfilling a commitment made last November, Agriculture Minister Esteban Valenzuela chaired the inaugural session of the recently created Technical Committee on Raw Materials for Traditional Crafts, which, through cross-sectoral work and together with the founders themselves, seeks to develop proposals to address the vulnerability that exists in the territories today different materials occur, such as vegetable fibers in the southern forests and alpaca fibers in the northern highlands.
The Committee consists of 17 members from the Ministries of Agriculture, Environment and Culture, Arts and Heritage; the agricultural services INDAP, Conaf, Infor and SAG; the Universities of Santo Tomás and Católica de Chile; the Fundación Artesanías de Chile and four artisans and one artisan from the regions of Tarapacá, Coquimbo, Los Ríos and Los Lagos.
Minister Valenzuela said that this committee starts with love and appreciation for the handicraft industry and under the maxim of sovereignty, thus aiming to defend our territory and give it the value it deserves. He also pointed to the risk that climate change and wildfires pose to commodities today and advocated paving the way for joint work with regional governments, as is being done in Atacama, Valparaíso and Maule.
"Today the challenge is to advance an agenda that engages the territories in a decentralized manner and facilitates mediation between actors linked to the original supply chain of raw materials for artisans. I am sure that this first meeting is the beginning of good public policy practice in this area, which will be appreciated by future generations of craftsmen in our country," said the Foreign Minister.
This new space of conversation and listening, which will meet again in November, has the task of proposing and articulating joint actions that allow an efficient, sustainable and long-term use of raw materials, which the traditional artisan sector has been wishing for decades and so their trades to ensure a high cultural value.
María Choque, a textile artist from Colchane who works with alpaca fibers, reported that the main problem they face is the attack of cougars on their cattle, in addition to the difficulty of getting yarn, which is why she considers the possibility of a cougar to Language brought Spinnerei for the northern area.
Quemchi sheep wool artist Adriana Tereuna, who works with a Huilliche (Kelwo) loom to recover old stitches for making carpets and blankets, said a key need in the Chiloé archipelago is to have a wool bank of their own – the One which had moved to the Carretera Austral, and also had good meadows where good quality wool could be obtained.
Adelina Soto, a plant fiber basket maker from Jonquil, Napo and Naya among others from Castro, said that it is becoming increasingly difficult for her to get raw materials for various reasons, such as drought, forestry, misuse of resources and also plots. because before there was more freedom in harvesting, and now you don't know what danger you are in when you enter private property."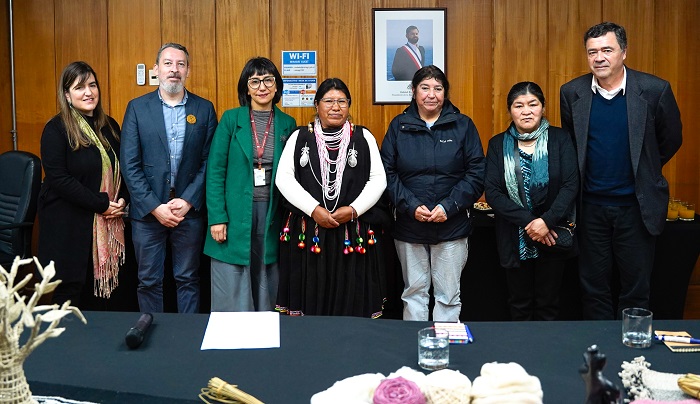 For Saúl Pérez, INDAP's national manager of crafts, the meeting of this technical committee marks a historic day for the country's traditional crafts, "as the first foundations are laid for a public policy that ensures an activity that is an integral part of our lives ." heir."
He also said that there are around 7,000 artisans and craftsmen in the country, of whom 4,900 live in the rural world (74.8% women and 24.2% men) and are supported by the institution, which is an important voice in promoting a new development model protects the environment and promotes sustainability practices.