Michigan's population is less healthy than the national average, ranking lower than most other states, including its Midwestern neighbors, in premature mortality rate, infant mortality rate and access to health care.
Michigan consistently spends less per capita on public health than the national average and ranks 40th among states in public health spending, according to the Citizens Research Council, a nonprofit organization that studies local and state government.
"Michigan has significant health disparities, especially disparities along racial and ethnic lines," said Corwin Rhyan, the health economics and policy research director at Altarum in Ann Arbor.
The research council collaborates with Altarum, which works with federal and state agencies to improve health outcomes for Medicare and Medicaid recipients.
"There are significant health disparities by race and ethnicity, income and geography," the Citizens Research Council said in the report.
These disparities are a major influence on overall poor health outcomes such as premature mortality.
"Across racial and ethnic groups, there is a more than five-fold disparity in the rate of premature death," the report says. African Americans, Native Americans and Native Alaskans suffer worse outcomes than white, Hispanic and Asian residents.
Rhyan said, "We're talking about the availability of primary care physicians, the availability of mental health and behavioral health care, access to maternal care and prenatal care ."
Health disparities are driven by environmental, economic and social racism, the report found. Environmental racism is found in housing safety and access to clean water because elderly and marginalized neighborhoods are at greater risk of exposure to environmental toxins.
"Black residents of the state see worse outcomes than any other racial and ethnic group," Rhyan said.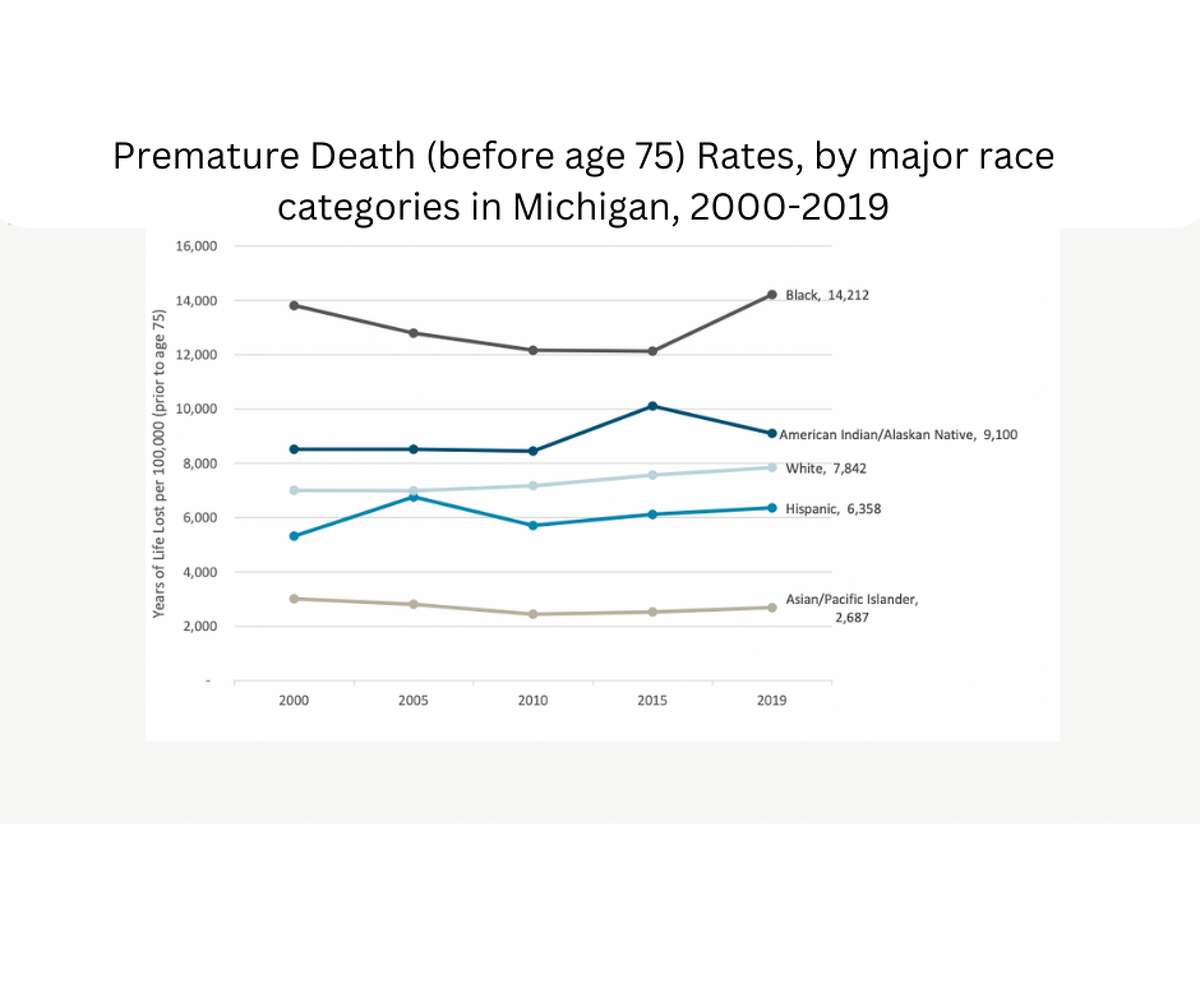 Earlier this year, the Michigan Public Health Advisory Council published a call to action with recommendations to improve public health based on input from public health officials, government officials, health professionals -health care and advocacy groups.
"There is a lack of trust between public health and medical care leadership," the advisory council said. "The politicization of public health harms workers and public health."
The advisory council says that "the most effective public health system must be resources for everyone, represent different populations and help communities thrive."
The report identified communication challenges between residents and public health systems, including "a lack of clarity in messaging, conflicting and confusing messages and a lot of misinformation."
It recommends the formation of a "health delivery coalition" among the Department of Health and Human Services, local health departments, medical groups and large health systems.
Natasha Bagdasarian, the state's chief medical executive, said that kind of collaboration would increase public confidence.
Despite low public health funding, Michigan compares favorably to other states with low rates of uninsured residents, below average health care costs and above average numbers. of doctors per capita, the Citizens Research Council said.
"We need to do a better job of distributing health care resources to all the people who live across the state," Rhyan said.
In July, Gov. Gretchen Whitmer the law to ensure that residents can continue to access affordable health care and lower health care costs. The legislation allows the Department of Health and Human Services to provide incentives for healthy behaviors rather than creating barriers to health care coverage.