Most countries in the world are facing attack cases of the Omicron variant of Covid-19. Omicron has mild symptoms, but not to be underestimated.
Each country has a different protocol in handling Omicron cases. The Australian government, for example, has implemented self-isolation at home for seven days for mildly symptomatic cases of corona.
Based on Australian government data on Tuesday (8/2), the daily additional confirmed cases reached 28,202 with active cases estimated at 277,360. The accumulated number of positive Australian cases since the beginning of the pandemic was 2,409,247 people.
Head Katadata Insight Center as well as a researcher at the University of Technology Sydney, Adek Media Roza, shared his experience when his family underwent self-isolation due to exposure to Covid-19. "Isolation applies to all members of the same house," said Adek, Tuesday (8/2).
Adek's family was infected with Covid-19 twice, namely in mid-December 2021 and early February 2022. In early February, schools in New South Wales started teaching and learning activities.
School students are required to have an antigen test twice per week. "School children receive four antigen test kits per two weeks," said Adek.
Apparently, Adek's first child with the initial K was detected positive for Covid-19 after an antigen test on the first day of school. He was also asked to self-isolate. Adek's last child with the initial B got a negative corona test result.
Adek and his wife were tested positive for Covid-19. Both had received booster doses of the Covid-19 vaccine about a week earlier.
Adek said he was experiencing symptoms in the form of headaches. Likewise, his wife also showed symptoms since one day before the Covid-19 test.
Adek and his family received a text message from the government instructing them to self-isolate for seven days. If after seven days there are no symptoms, they can come out of isolation.
"If you still have symptoms, the isolation will be extended for 24 hours, and so on," he said.
The medical team advised Adek and his family to only take paracetamol. They were asked to call an ambulance if needed.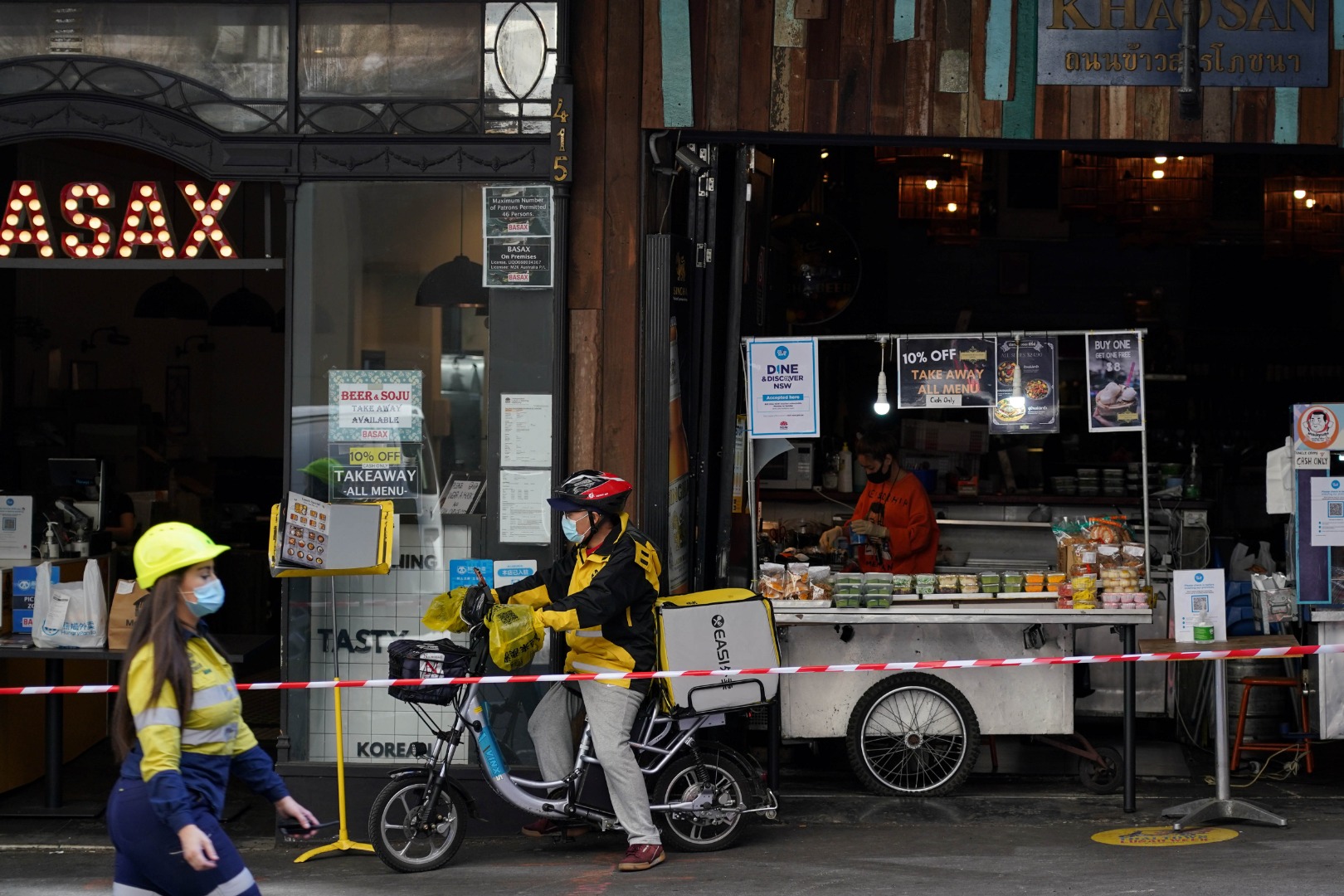 The atmosphere in Australia (ANTARA PHOTO/REUTERS/Loren Elliott/HP/djo)
For two days, K only had a cough and recovered quickly. Meanwhile, Adek and his wife experienced a number of symptoms for four days. "My wife and I are battered," he said.
Symptoms include cough, itchy throat, fever, chills at night, headache, body aches, pain in the eyes, and sluggishness. Even so, they were not asked to run a re-test for Covid-19 to make sure they had recovered from the corona.
Adek also confirmed this to the principal of his eldest son's school. "There is no need for a test. The results will most likely remain positive because it has only been seven days," said Adek, imitating a message from the principal.
If there are no symptoms, the school still allows K to return to face-to-face learning. Schools are not closed when there are positive students. Isolation is only done on positive students.
"So K and B this morning (8/2) went to school after their vacation was 'extended' for a week," he said.
Medical Officers Monitor Patient Conditions Every Day
The handling that Adek received was different when his family contracted Covid-19 in mid-December. Initially, Adek's youngest child, B, underwent a Covid-19 test because a friend from his school was exposed to the corona. The result, B positive for Covid-19.
All members of Adek's family at that time had to undergo 12 days of isolation. These instructions are based on a text message from the local health service, New South Wales (NSW) Health. At that time, the daily addition of positive Covid cases was around 700 cases.
At that time, health workers provided services virtually. After receiving the test results, Adek immediately received a call from the virtual hospital.
The officers always monitor the patient's condition by making voice and video calls every day. "They asked about my child's condition," he said.
In addition, the local Health Office also contacted Adek's family. The goal is for close contact tracing.
Adek's family also received a package containing an oximeter and instructions for treating Covid-19 patients at home. The guide explains what to do if you have severe symptoms.
The officer asked those who had close contact with the patient to undergo a Polymerase Chain Reaction (PCR) test on the 6th and 12th days since close contact was detected positive.
On the 6th day of the PCR test, Adek's eldest son also tested positive for corona. At that time, daily positive cases had jumped to 5 thousand cases. Medical officers no longer monitor health conditions by calling and video calling.
They delivered a message containing a link to monitor K's health condition. The officer asked K to undergo isolation for 12 days.
The government also did not send the oximeter package to K. "Perhaps because B is in the same house as B, it is considered no longer necessary to send packages," he said.
Nurses from virtual hospitals recommend taking paracetamol if there are complaints. If there are further complaints, the family can call an ambulance.
On the fourth day B was positive, Adek had called an ambulance because his heart was beating too fast. He also complained of stomach pain.
Within hours, the virtual hospital provided a Zoom link to monitor B's condition online. Not long after, paramedics visited Adek's house.
Even so, officers gave Panadol and checked the heart rate through an electrocardiogram.
The results of the examination showed that Adek's child was in good condition. "They ordered, if the condition worsens, immediately call an ambulance again," he said.
After that, Adek's child's condition gradually improved. B also received an e-certificate free from isolation, while K who did not experience symptoms received a certificate on the sixth day.
Meanwhile, isolation-free e-certificates can be obtained without running the PCR test again. "Here after being positive, there is no more PCR test," he said.