United States invented modern solar panel in 1954. A quarter of a century later, American companies dominated by 95% the global solar energy market.
The collapse lasted only a few years. By the mid-1980s, with Japanese rivals racing ahead, the US market share had shrunk to 55%. steadily declined from there both Chinese and South Korean firms rose…
Senator John Ossoff (Democratic Republic) wants to reverse this course.
Senator's bill to increase domestic production of solar panels was included in the Democrats' extensive infrastructure package – the Build Back Better Act. If passed, the law would provide tax breaks for factories producing components for photovoltaic panels, laying the groundwork for a new domestic supply chain that would make the country less dependent on China for the United States. fastest growing source electricity.
Analysts say this is a new approach that will help avoid the mistakes made by previous federal policies in trying to bring clean energy production back home. But it also depends on trade policies that artificially inflate the prices of imported goods and threaten to slow the pace of solar energy growth, prioritizing a segment of the industry that employs fewer workers.
"As we accelerate the transition to renewables, we cannot rely on imports, especially from countries with which we may not have stable trade relations," Ossoff told HuffPost in a telephone interview this week. "My legislation will spark a global restructuring of solar energy supply chains, moving every step of that supply chain – from polysilicon to ingots and wafers to modules – to the United States."
The Senator is due to fly to Glasgow, Scotland on Friday to attend the UN Climate Summit. From there, he will travel to South Korea, where he plans to meet with senior government and corporate officials to encourage more manufacturers to open factories in the United States.
The few remaining U.S. solar producers have benefited from tariffs imposed by the Trump administration in 2018. Import duties, starting at 30% and falling 5% annually, were for panels built in the USA with a higher labor force and material costs competitive with much cheaper equipment made in China.
In response, the American division of the South Korean solar giant Hanwha Q Cells open largest panel assembly plant in the Western Hemisphere in Dalton, Georgia in September 2019. Georgia is also home to one of the country's largest electric vehicle battery factories, owned by SK Innovation, another South Korean giant.
"My vision is that the United States should become the world leader in technology, innovation and renewable energy production, and Georgia should lead the nation," Ossoff said.
Ossoff's bill will expand the domestic supply chain by providing tax breaks for PV companies – individual black or gray stripes that absorb sunlight on a solar panel – 4 cents per watt. equipment and dividing it by generating capacity.
Firms that then assemble their own American-made cells into modules – pieces that, when combined into an array, make up a complete panel – will receive 11 cents per watt. Manufacturers who assemble imported items into modules will receive 7 cents.
The average cost of a US-made module is about 33 cents per watt, so the tax break will cover up to a third of the manufacturing cost for a firm that manufactures its own cells.
But the most generous tax breaks in the bill will go towards wafers, the thin wafers of crystalline silicon that power every cell and which are hardly ever made in the United States. The legislation provides 5.5 cents per watt for an item that costs an average. 8 cents per production, which covers approximately two-thirds of the production costs.
Trying something new
Previous attempts to bring clean energy production from low-cost developing countries in East Asia with minimal regulation to Western countries with strict labor and environmental regulations have largely failed. A lengthy essay published this summer in the London Review of Books traced the rise and fall of a Korean-owned wind turbine plant in Scotland, and concluded that production seemed doomed to return to assembly plants at discounted prices during Vietnam when the incentives for the European country run out. …
Solar cell manufacturing is much more automated than wind turbine factories, so higher labor costs and different operating modes are less of a concern for East Asian companies setting up factories in North America or Europe. But Ossoff's bill also offers a new approach to getting manufacturers to not only open factories, but also keep them running.
Unlike the tax breaks that the Obama administration introduced more than a decade ago, which paid companies based only on building factories, Ossoff's incentives only work when firms actually produce goods. This means that manufacturers will need to find buyers and integrate into the supply chain, increasing the chances for the business to exist.
"The Obama-era manufacturing incentives prompted companies to build big factories, capitalize on that incentive, but there was no incentive to stay in the country after they cashed in," said Paul Lescano, a solar analyst with energy research firm BloombergNEF. … "The structure that Ossoff is proposing encourages the factory to be truly productive and remain relevant in the future, which means you don't get everything in advance for the first 12 months after the factory goes live."
He said that "this is the first time we've seen such a stimulus structure." The model is closer to how developing countries attract foreign companies to open local stores. India, for example, pays producers per unit of the product they produce. China offers government funding and low interest rates for local factories. And Brazil provides solar energy companies with cheap loans through the Brazilian Development Bank, but only if the firms use locally sourced panels and components.
Competing priorities
However, according to BloombergNEF, tax breaks will only make U.S. manufacturing truly competitive with Chinese factories if tariffs on East Asian imports remain. The solar industry in the United States, which mainly employs Americans who sell and install panels, has complained that due to these duties in the business, which in 2016 one in 50 new employees. But President Joe Biden rejected Inquiries to cancel tariffs.
The US International Trade Commission is currently considering tariff extensions, and the Commerce Department is considering a separate request from an anonymous petitioner. introduce new import duties on a panel from Southeast Asia.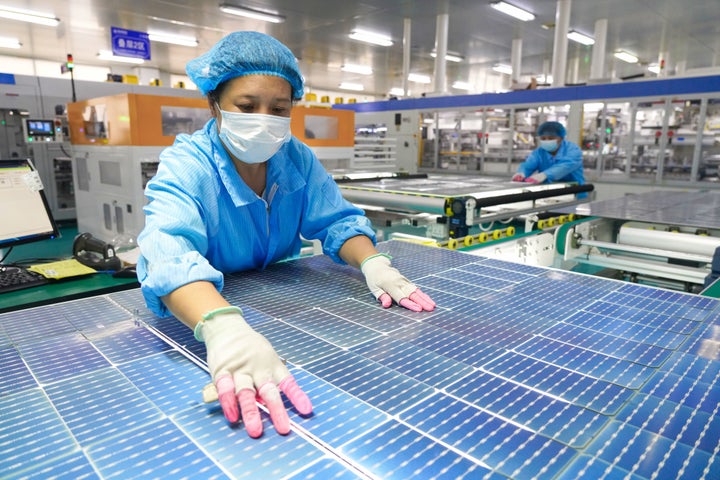 Companies that asked for tariffs provided by the Trump administration said the import duties would create 45,000 solar jobs. But jobs in solar factories actually fell 9% last year alone, according to data latest job census from the industry fund Solar Foundation.
The Solar Industry Association, the most influential national trade group in the industry, has called on the Biden administration to remove tariffs and reject requests for new ones.
"The bottom line is that the climate cannot afford these tariffs," said trade association president Abigail Ross Hopper. statement… "The trade must reject these unfounded petitions now because the climate, the economy and thousands of American jobs are at stake."
Ossoff declined to comment on the tariffs, saying he was "still considering the trade policy debate."
"My current focus is on enacting legislation that will allow us to quickly scale up a fully integrated internal supply chain," he said.
This could run counter to rapid job creation and the use of solar energy, Lescano said.
"It's just that you have very different priorities, and those priorities don't necessarily complement each other," Lescano said. "If your goal is geopolitics and the security of internal supply chains, onshoring is the solution. If your goal is purely economic and fast implementation, then the right way is to cancel all tariffs and get the cheapest modules. "
Ossoff said domestic production policies matter. The Democratic loss in state elections this week is widely seen as a harbinger of a Republican wave in the 2022 midterm elections that could give the Republican Party control of Congress and make it difficult for the Biden administration to pass legislation. However, Ossoff said he "has already worked with Republican officials at the state and local level to make Georgia a national renewable energy leader."
"We have a clear and compelling national interest in building our industrial base, production capacity and technological innovation, in developing greater energy independence and an interest in national security, so as not to be dependent on certain foreign markets for some of these components and technologies," said Ossoff. "This is a unifying question, and it should be unifying."