An assistant Crown attorney argued Tamara Lich violated her bail conditions when she agreed to accept an award and to be "brand ambassador" for a convoy-themed pendant.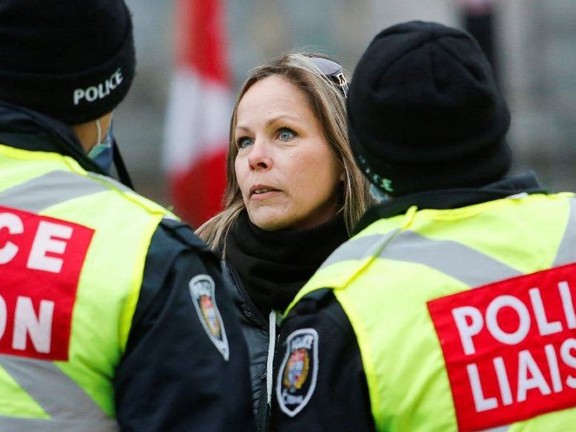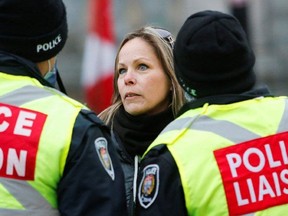 Article content
A judge will decide on Wednesday whether Tamara Lich should be returned to jail over alleged violations of her bail conditions or whether those conditions should be relaxed to reinstate Lich's access to her social media accounts.
Article content
Superior Court Justice Kevin Phillips will consider exhaustive arguments on both opposing proposals heard over a two-day, two-pronged bail review, with Assistant Crown Attorney Moiz Karimjee arguing Lich's bail should be revoked over his acceptance of a "freedom award" from the Justice Center for Constitutional Freedoms, among other alleged violations.
This week's much-anticipated bail review of one of the most prominent "Freedom Convoy" leaders had initially been scheduled for Lich's lawyer, Lawrence Greenspon, to challenge the bail condition restricting her from using any social media accounts.
Greenspon argued that the condition was overly broad and restrictive, amounting to an outright "banishment."
Article content
The Crown argued Lich should be returned to jail on the grounds that she had "continued her support of the convoy cause" by agreeing to accept the 2022 "George Jonas Freedom Award," which is to be presented at a June 16 gala in Toronto featuring keynote speaker Rex Murphy.
The bail review resumed Friday with Karimjee accusing Lich of violating her bail conditions — once when she agreed to accept the award and again when she agreed to be "brand ambassador" for a convoy-themed pendant.
Karimjee suggested both were raising money for causes related to the "Freedom Convoy," which would violate her release conditions. The veteran prosecutor also made an on-record suggestion that the JCCF — a legal advocacy group and a vocal supporter of the "Freedom Convoy" — was financing her legal defense.
Article content
Lich testified from her Alberta home that she did not believe her acceptance of the 2022 "George Jonas Freedom Award" from the JCCF constituted a breach, while Greenspon lodged an immediate objection to any questions related to her legal fees.
"Wow. Object," Greenspon said, citing a "clear case" of solicitor-client privilege.
Superior Court Justice Kevin Phillips sided with Greenspon on that point, ruling the privacy of solicitor-client privilege "far outweighs" any value the evidence of her legal fees could provide to the proceedings.
Temperatures had cooled considerably inside courtroom No. 36 by the time the hearing resumed Friday following a fiery Thursday session that featured a rare testy exchange between Karimjee and Phillips, the presiding judge.
Article content
Karimjee at one point asked the judge to "recuse" himself, a request Phillips denied.
Karimjee continued his cross-examination of Lich on Friday by accusing her of breaching a second condition of the March 7 release order barring her from posting anything to social media or allowing anyone else to post on her behalf.
Karimjee produced a social media post featuring Lich wearing a pendant emblazoned with a truck and the words "Freedom Canada," which Karimjee said was being sold in an online fundraiser to support the convoy.
"There is no convoy to support," Lich said. "I understand (the condition means) there's no organizing of anything related to the convoy or any future protests."
Lich acknowledged the gala event and the award may be "related" to the convoy cause, but said, "I don't think it's a breach."
Article content
Lich is barred from entering Ontario as part of the conditions of her release. She said she hoped to attend similar JCCF events scheduled for Calgary and Vancouver.
Lich said the pendant, meanwhile, was sent to her by a supporter and she returned the favor by sending back a photo of herself wearing the necklace.
"I didn't see it as supporting the convoy. I was just being nice and grateful," Lich said. "I don't think (it's related) … I don't see how it's a breach. It's a necklace someone gifted to me. I didn't really see the harm in it."
Lich's surety, whose identity is protected by a publication ban, also testified by videolink Friday and expressed surprise when Karimjee presented the pendant and suggested the photo constituted a breach of Lich's social media ban.
Article content
Karimjee urged the judge to send a "strict message" in his ruling, saying Lich had committed "egregious and open breaches" of her release conditions.
Allowing those breaches "would make a mockery of our justice system," Karimjee said, and would "undermine confidence in the bail system."
Greenspon said the Crown made several attempts, but "didn't even come close" to impugning his client's credibility.
"If there is anything that undermines confidence in the administration of justice, it would to be to re-incarcerate an alleged first offender on alleged breaches … which involve no violence, no injury, no weapons," Greenspon said. "If there's ever going to be a case where the administration of justice is going to be undermined, it would be in acceding to the Crown and re-incarcerating Ms. Lich."
Lich and fellow protest organizer Chris Barber are jointly charged with mischief, obstructing police, counseling others to commit mischief and intimidation.
Lich was arrested Feb. 17 and was initially denied bail on Feb. 22, though that decision was overturned on March 7 and she was ordered to return home with a list of conditions, including a broad order not to "verbally, in writing, financially or by any other means support anything related to the Freedom Convoy."
Twitter.com/helmera