California.- More than 80 aftershocks have been reported by the United States Geological Survey since the magnitude 6.4 earthquake struck northern California. This Tuesday's celestial movement reminds residents of the Golden State that they live in one of the most seismic zones on the planet.
A magnitude 6.4 earthquake struck near Eureka in Humboldt County, killing two people, injuring 11 and leaving thousands without power.
There are about 500 active geologic faults in California, all of low danger and intensity, however, moving. The most studied by scientists are: San Andres and Hayward, which may have caused the so-called "Big One".
Most Californians live within 30 miles of a fault line, according to insurer California Earthquake Authority.
"Most faults occur at the boundaries of giant plates of the Earth's crust," which are graded by speed of movement or slip rate. For example, the slip rate of the San Andreas Fault is 36 millimeters per year.
major geological fault
On an interactive map from the United States Geological Survey, you can navigate and learn which fault line Californians live on.
The San Andreas Fault extends across the state and is approximately 800 miles (1,300 km) long. It has a slip rate that can reach up to 5.0 mm per year.
In the Ventral Valley it passes just 50 km west of Coalinga in Fresno County and then turns north into San Mateo and San Jose counties.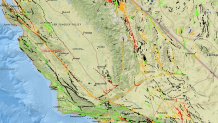 Another geological fault to study and which is expected to cause a major catastrophe in the state is the Hayward Fault. "Since the last five major earthquakes on the Hayward Fault have been approximately 140 years apart, the Hayward and Rodgers Creek Faults are the most likely faults to generate large earthquakes in the Bay Area," the report said.
Meanwhile, in Southern California, the last rupture of the San Andreas Fault occurred in 1857. Geologists found that the cumulative total earthquake displacement (sudden fault movement) and incidence (sustained fault movement) is at least 350 miles (560 km), with a recent study by the agency saying that the San Andreas fault It was formed about 15-20 million years ago.
Other geologic faults studied are the San Jacinto and Great Valley faults, the latter being the one that can cause earthquakes greater than magnitude 7.0 in the San Joaquin Valley.
One of the last earthquakes recorded in central and southern California was the Ridgecrest earthquake, which occurred on July 4 and 5, 2019. Many in San Bernardino and Kern counties, where most of the damage occurred.
To watch more from Telemundo, visit https://www.nbc.com/networks/telemundo