A Russian propaganda reporter shared a photo of Wagner's headquarters in the Ukraine War. Kyiv uses it to locate the place and destroy it.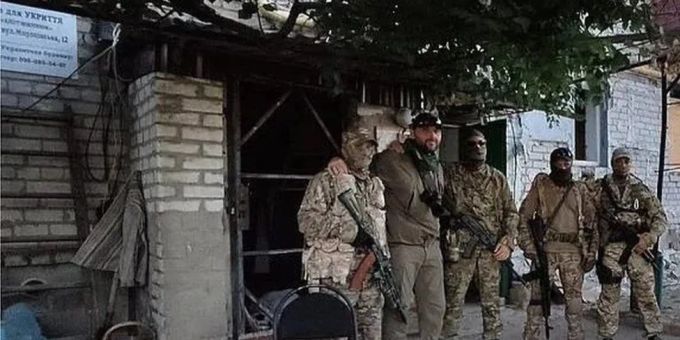 in short needed
A Russian reporter visited Wagner headquarters in Ukraine and shared the photos.
A road sign can be seen on one of them.
Ukraine can use it to locate the location and open it.
In early April, Russian war correspondent Sergei Sereda visited the Ukrainian headquarters of the Wagner group. They were received "like family", with mercenaries telling them "funny stories". This is what the propaganda reporter reports on Telegram and shares some pictures of him walking around with the fighters.
He made a serious mistake: he shared a photo showing a road sign from the town of Popasna in Luhansk, which was occupied during the Ukraine war. With this and other photos, the Ukrainian Armed Forces were able to locate the headquarters – and attack it.
Luhansk Governor Serhi Hajde writes about the attack on Telegram. So you can find out the headquarters address "Thanks to a Russian journalist". The death toll has not yet been determined. Telegram channels affiliated with the Wagner Group also shared photos of the destroyed headquarters.
The Wagner Group is officially a private military company. In fact, it is a mercenary group, heavily backed by the Kremlin, acting on behalf of Vladimir Putin. The mercenaries, who are accused of human rights violations and war crimes, appeared in the Donbas conflict in early 2014. They have also been deployed in Syria, Mali and Libya.
Did you donate money to the Ukraine war?
More on the topic:
vladimir putin kremlin ukraine war war