Since the era of technology, beauty trends have emerged in various ways. The presence of influencers and public figures contributes to the rise of various existing beauty trends. Call it the Hollywood artist Kylie Jenner, thanks to the appearance of her sensual lips, many people are vying for have thick lips sexy like the idol. Another emerging trend is beauty treatment with ultherapy and hifu methods.
The earliest signs of skin aging can be seen from the appearance of wrinkles and fine lines.
This trend was crowded because Indonesian artist Donna Agnesia used a beauty treatment method that was said to be easy and without surgery. The Ultherapy treatment carried out by Donna is called an effort to get a naturally thinner and firmer looking face. Want to know more about Ultherapy, let's see the explanation below.
What is Ultherapy?
Ultherapy is a non-surgical cosmetic method that useful for tightening some areas face such as neck, chin, eyebrows and chest. The technology used in this method is a micro-focused ultrasound energy wave. This technology works to stimulate collagen production, so your appearance looks younger naturally.
This technology is said to be the only non-invasive procedure that has passed the FDA's due diligence. FDA or the abbreviation of Food Drug Association, is an agency similar to BPOM located in the United States. The function of this agency is to regulate the regulation of the use of drugs, foodstuffs, supplements, blood transfusions, biopharmaceutical products, veterinary products, medical devices and devices for radiation therapy.
To be able to provoke the production of collagen in the skin, it takes at least 1-3 months, until the results of the face look tight and thin. This effort will seem worth it if you are on a weight loss diet, the part of the face that usually looks looser after losing weight, will actually look tighter if you do ultherapy treatment first.
What is Hifu?
Hifu more or less has benefits similar to ultherapy. A non-surgical beauty method that works to increase the firmness, elasticity and flexibility of the facial area, so that it looks more youthful. The basic difference between hifu and ultherapy is the type of technology used. Ultherapy uses micro ultrasound energy, while hifu uses high intensity ultrasound energy. The use of HIFU technology in accordance with its abbreviation, namely high intensity focused ultrasound (HIFU).
Although it has the same benefits, HIFU has a weakness in the magnitude of the impact given to the face if the process is not carried out properly. If during the procedure the doctor hits the fat cells, HIFU can destroy them, leading to fat loss. This can lead to hollow areas of the face, which actually causes more lines and wrinkles than provides the desired lifting effect.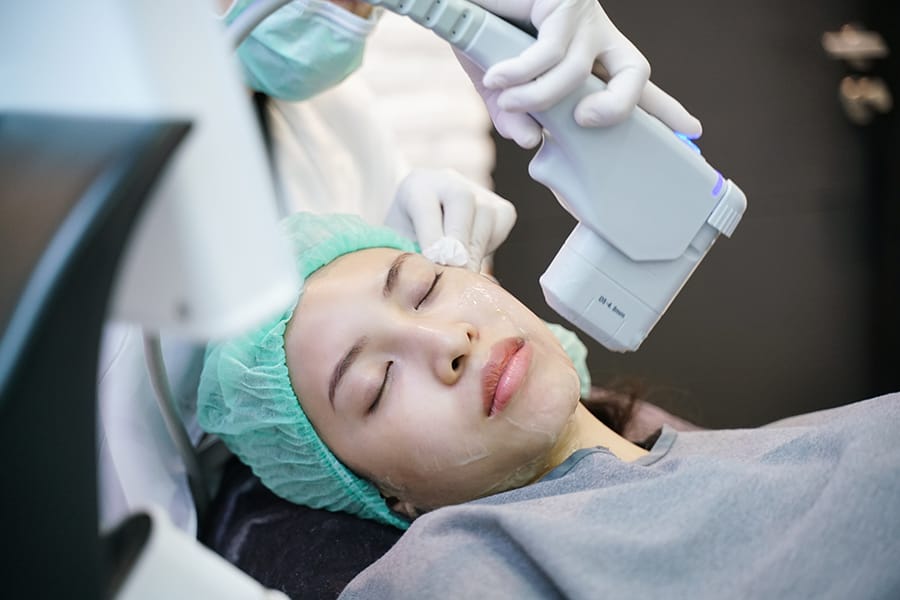 Ultherapy is a beauty treatment for skin tightening without surgery.
Benefits of Ultherapy and Hifu
The benefits that you will get both when performing ultherapy and hifu procedures are:
Tighten facial skin such as eyebrows, chin and other areas such as neck and chin
Reduces the effects of wrinkles and facial lines
Gives a contour effect on the face, so it looks like there are firm lines on the face
Skin looks more youthful naturally
Face looks thinner naturally
Cost
The cost of beauty treatments with ultherapy and hifu methods will vary from clinic to clinic. For ultherapy, the costs you need to prepare start from three million to tens of millions of rupiah. As for hifu, you need to prepare 2-4 million rupiah. The costs mentioned above can at least give you an idea of ​​how much money you need to prepare, although price variations may vary from clinic to clinic, but make sure the clinic you visit is credible and can provide the best treatment.
How Long Does It Last?
One of the advantages of these two cosmetic methods is that the procedure is non-surgical, so it doesn't involve needles and stitches and has a long durability. If you do ultherapy or hifu, you won't need to do frequent treatments, because both can last up to 6-18 months. After that you only need to do a few times of maintenance every year or two. It also depends on how old you are and how your body responds.
So now you know about ultherapy and hifu, a beauty method that has become a trend among women. Before doing hifu or ultherapy, make sure you have read and understood the procedure, benefits and impacts that will occur on your face. Hopefully this article can help you to better understand what ultherapy and hifu are. If you find this useful, don't forget to share this info with your colleagues or relatives. See you at the next opportunity.
Has been reviewed by dr. Cindy Alvina Handryan
Source: