part 1 link
The US Federal Reserve has recently taken steps to communicate future policy changes – suggesting raising interest rates and acting more aggressively to tackle inflation.
In the last few weeks of 2021 and early 2022, these remarks and postures by the US Fed have caused some pretty big drops in the US major indexes. As a result, volatility levels in US markets (much Ado) Recent averages have moved between 17-21 – almost 3x the historical normal level.
US Fed likely to move very slowly on rates
One thing that I think has become clear to many is that we have moved beyond the COVID stimulus conversations of the last 24+ months. Inflation, rising prices, limited supply chains, and an overabundance of capital in many global markets have changed the way the US Fed interprets future risks.
The Fed is telegraphing these concerns very clearly to investors right now, which means traders/investors are turning their attention away from high-flying growth stocks.
Even though traders are attempting to move capital out of some of the riskier areas in the US and global markets, I still believe we have about 60 to 120+ days before a major market turnaround occurs.
The US Federal Reserve will likely begin to address inflation concerns by reducing its balance sheet assets — not by aggressively raising interest rates.
I think the US will navigate Q1: 2022 and Q2: 2022 by reducing balance sheet assets while allowing the Fed to attempt to resolve global supply chain issues on its own. By June/July 2022, or later, I believe the Fed may begin to consider raising rates as a means of slowing inflation.
Fed Comments Shift Investor Sentiment — Metals in Focus for Later 2022
This moving away from dovish/easy money policies will prompt traders to consider more traditional hedge investments – such as gold and silver. I'm sure you've read some of the comments over the past 24+ months that Gold is an extremely undervalued asset because the US Fed has poured trillions of stimulus dollars into the economy?
These comments were related to the fact that gold rose from $1450 in 2019 to nearly $2100 in 2020 – more than (+43%) in 12 months. Could there be a big jump in gold/silver again in 2022 or 2023?
My research shows that a double pennant/flag formation in gold suggests that the $1675 support level will turn important soon. It also indicates that the breakout/breakdown move may start before March or April 2022 – near the apex of the current pennant/flag formation.
The key apex range is currently between $1785 and $1830. This represents a very tight price range where gold may attempt to consolidate as we move towards the March/April apex.
My research suggests that the $1740 to $1750 level can be taken just before the Apex breakout/breakdown begins. So, look for slight volatility in gold prices before the end of February 2022.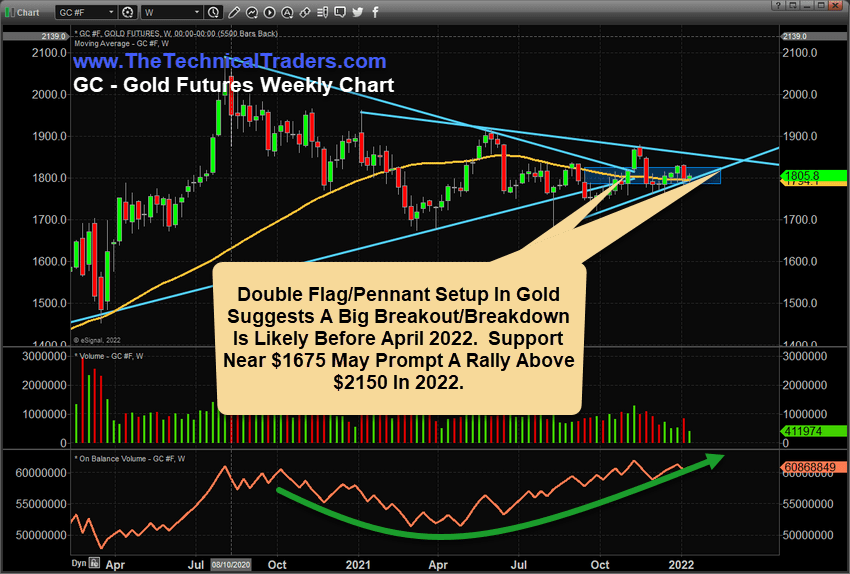 Junior Gold Miners Can Rally +45%, or More in Gold Price Rally
The Junior Gold Miners (GDXJ) weekly chart shows a strong support level near $37.35 which should act as a floor for the price. My research suggests that GDXJ price will remain under $44 to $45 over the next 45+ days – trading in a reasonably tight range before starting a rally higher near the end of February 2022.
I believe metals and miners are aligning for the end of February 2022 or the Q2: 2022 rally. This is because I believe the position of the US Fed, and subsequent expectations regarding 2022 (a midterm election year), could be of considerable concern to US and global equities. This will likely push investors and traders into "old-school" hedge instruments – such as gold and silver.
This means that junior gold and silver miners are probably about 55+ days away from an explosive upside price trend.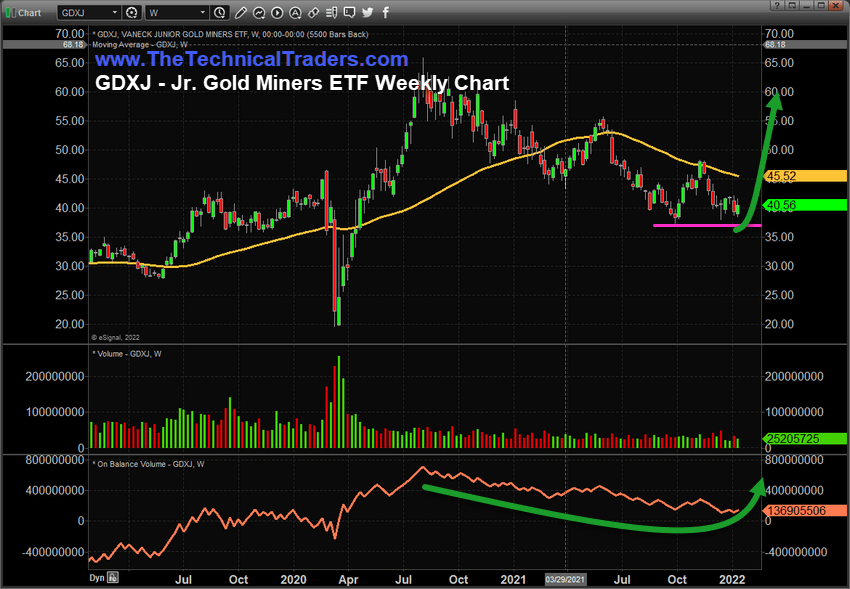 SILJ May Rally +70% to +100%, or More, on Fed Actions
Near the end of 2021, I published a research article highlighting the incredible opportunity in Silver – focusing on how the gold/silver ratio had recently reached another peak and started to decline. Thi: Fear May Drive Silver Over 60% In 2022.
This move reflects the disparity between the price of gold and the price of silver, indicating that the price of gold has risen (and holds more value) than silver over the years.
The COVID virus event, and subsequent Fed/Government stimulus, shifted the focus of investors/traders away from precious metals to the speculative rally of the equity market. Now that the US Fed is starting to warn of more aggressive rate hikes and other actions, precious metals are suddenly more important as a hedge against future risks.
The SILJ weekly chart highlights an incredible base level near $12, which continues to offer traders a great hedge against sudden Fed moves. Using a simple Fibonacci price extension, we can see the $20 target level (+61%) and the $25.64 target level (100%). If the $12 level remains as a base/support, the SILJ could be one of the easiest and best hedges against sudden Fed moves right now.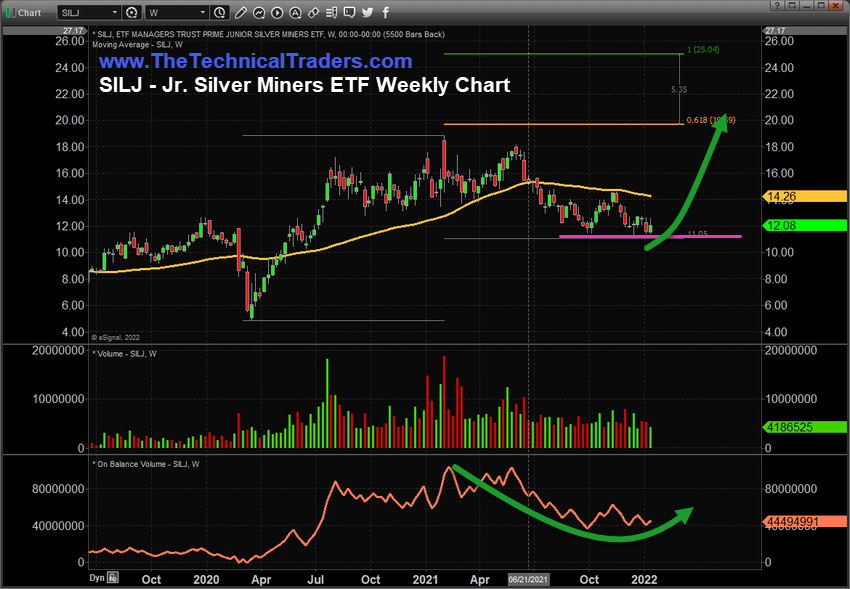 The US Federal Reserve is, in my opinion, playing with fire
The COVID virus event raised the global debt level to more than $19.5 trillion (source: Bloomberg). A flurry of effort to save the global economy has caused a massive jump in global debt levels – pushing global debt above 356% of GDP levels (source: Axios).
Why is this so important right now? Because the US Federal Reserve is talking about trying to bring interest rates and Fed decision-making down to near-normal levels.
In my opinion, it was a mistake by Alan Greenspan in 2006-07. The idea that we can raise rates to "close to normal levels" at any time when we have increased excessive debt levels around the world is, in my opinion, unsuccessful thinking and ignorant.
The US Federal Reserve is stuck and almost back in a corner. I believe that any rate hike above 1.00 by the US Fed before the end of 2023 will significantly disrupt the global speculative bubble.
Any attempt to move rates to levels near or above 2.00 would represent an increase of approximately +2000% in less than 12 to 24 months. If you want to see a blow to global markets where global debt to GDP is closing in on 400%, try raising the FFR to over 2000% in a short period of time. This is what I call "playing with fire".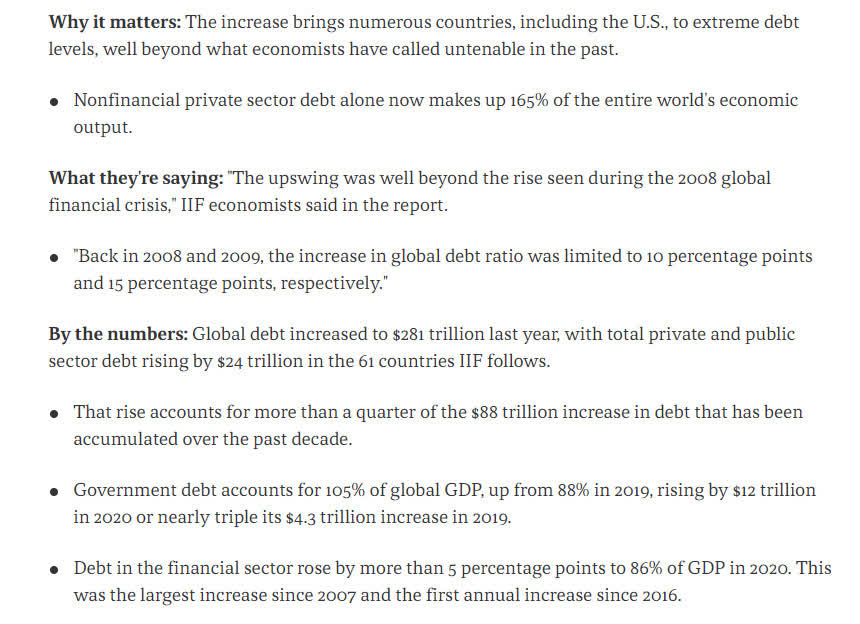 Growth sectors and US major indexes may continue to move higher for the next 30 to 60+ days, but my research shows that Q2:2022, representing a "change in thinking" related to the Fed shift at the end of 2022 Can do. We are starting to see that the market is moving away from the speculative bubble-type trend that we saw in 2020 and early 2021.
Keep your eyes peeled and learn how to prepare for the big trends in the next 3+ years. The Fed is playing with fire right now. One wrong move and a massive price correction/reversal can start in the market.
original post
Editor's Note: The summary bullets for this article were selected by Seeking Alpha editors.