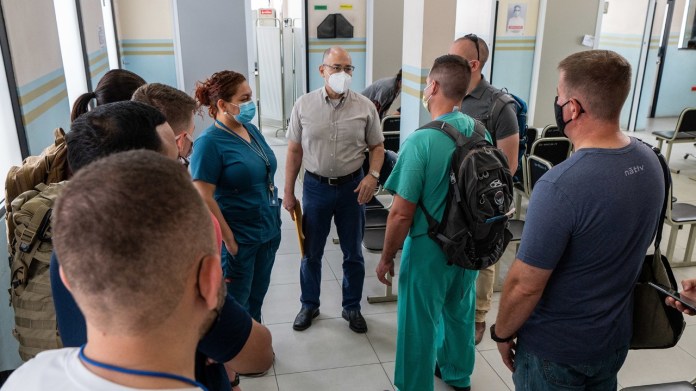 The United States Embassy in Guatemala reported that a group of 25 military doctors, members of the United States Southern Command's (Southcom) Medical Response Assistance Team (HEART 22), will visit the country to provide services and donate medical supplies. Equipment to hospitals.
According to the diplomatic mission, members of HEART 22 will appear in hospitals in Guatemala City as well as Quetzaltengo in mid-August.
#LHEEconomy During the tour of La Hora, the metropolitan area saw a new increase at gas stations. https://t.co/vICE8D8NXW

— La Hora Newspaper (@lahoragt) August 19, 2022
What help will you provide?
The US embassy said HEART is a team of 22 US Armed Forces medical and support personnel, of which 25 members will arrive in the country for two weeks with the aim of attending to the critical medical needs of various communities.
He said that they would try to achieve this goal by providing high-impact medical services in collaboration with medical professionals from partner countries. He said that they will provide orthopedics, ophthalmology and dental services.
In addition, surgery patients were pre-selected by Guatemala to ensure that joint medical teams could treat them as efficiently as possible.
Finally, he pointed out that the visit includes donations of medical equipment and voluntary services by non-federal US entities.
Analysts agree that the actions and speeches of the politicians present are not coherent and beneficial to the country. https://t.co/7lxdp1cQex

— La Hora Newspaper (@lahoragt) August 19, 2022
They will be taken from Hondurassi
A US Army CH-47 Chinook helicopter assigned to the Joint Task Force-Bravo (JTF-Bravo) at Soto Cano Air Base in Honduras will transport donations and medical supplies.
He concluded by indicating that the operation was an example of the United States' enduring commitment to working with its allies. "The collaboration of the American, Guatemalan and Honduran teams will enhance medical preparedness, strengthen relationships and support the well-being of communities," he said.