Victoria's roadmap released today marks an important milestone out of lockdown. It's a clear commitment to deliver on the national plan, and provides much needed clarity on where we're headed and what the next few months will look like. It is staged and sensible, striking a balance between opening and maintaining a level of control over the transmission.
As more Victorians are vaccinated, the roadmap outlines a phased reopening plan. This is informed by modeling from the Burnett Institute, which makes some dire predictions about the number of cases and the strain on our health system, no matter what course we take from here.
It tells us what things will look like when we move from 80% of people 16 and older getting at least one dose to fully and 80% of people getting at least one dose and beyond.
The potential risk of easing restrictions will be managed through a continued focus on outdoor activity and taking advantage of the reduced risk of infection, and even more, the increasing number of hospitalizations that are fully vaccinated. Huh.
Having a clear vision for where you're going can make all the difference, especially when the time horizon is now within weeks. We need it, because it will still be a difficult transition to live with COVID through the "gateway".
balancing the risks
The roadmap was one of only five scenarios the Burnett team modeled and is actually the least cautious. But the decision was taken to delay further easing of restrictions to balance these risks with the direct and indirect health costs.
The modeling estimates twice the peak in terms of number of cases, ICU admissions and deaths under the proposed path, compared to staying under lockdown, or other more restricted scenarios.
But it also suggests that some of this additional risk may be mitigated by maintaining a high level of testing.
We have a way, and one we can make, less expensive by testing when symptomatic, and following public health orders now that the end is within reach.
So what does the plan say?
When 80% of Victorians have received a single vaccination dose
80% single-dose coverage among people aged 16 and over, expected by 26 September, will increase travel range in Melbourne to 15 km.
Outdoor activities such as basketball, golf, tennis will be permitted, subject to the same number of people limits as picnics: two adults if not vaccinated, or up to five fully vaccinated.
In regional Victoria, final year VCAL (Victorian Certificate of Applied Learning) students will be allowed to study onsite. Masks will no longer be required for beauty or personal care services.
When more than 70% -16s are double dosed
October marks the beginning of a partially staged return to onsite schooling, and with the change once 70% of those 16 and older are fully vaccinated, that is expected by October 26.
This marks the official end of what we know as the lockdown.
Metro Melbourne will also end the curfew and open up an outdoor hospital for those who are fully vaccinated.
Weddings and funerals will be allowed outside up to 50.
Students of all years in both Melbourne and regional Victoria will be able to learn face-to-face for at least part of the week.
Regional Victoria will be even more at ease with hospitality venues allowing 30 fully vaccinated patrons indoors.
When over 16 have been waxed 80% double-dose
When we get to the 80% double dose coverage, which is projected for November 5th, all of Victoria will share the same minor restrictions.
Indoor activity will further open for those fully vaccinated, including retail, and will increase the cap to 150 and outdoor to 500 for organized indoor events.
Private gatherings of up to 30 people will be allowed outside, but only ten guests are allowed in the house, the setting considered the highest risk.
Masks will be required only indoors.*
---
Read more: We have got used to wearing masks during COVID. But does that mean the habit will persist?


---
by the end of the year
By the end of the year, as we aim to fully vaccinate over 80% of adults and 80%, including 12- to 15-year-olds, more visitors will be allowed into the home, possibly increasing to 30 by Christmas. will be given.
Until then, international travel may be possible, at least to countries at risk.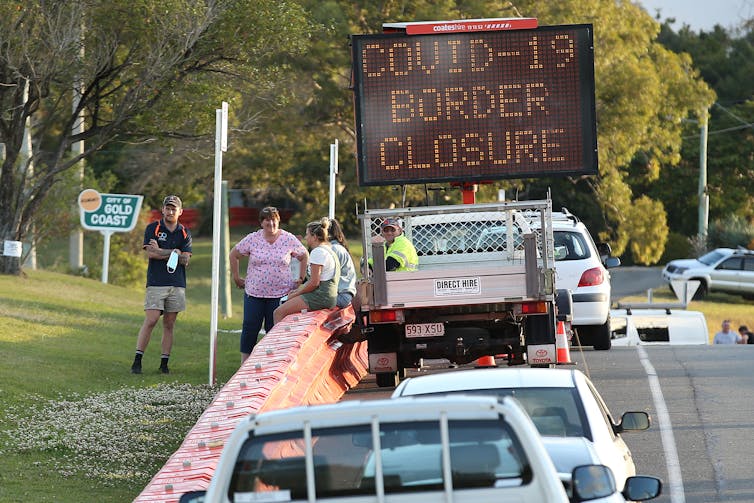 Interstate travel will also be on the cards, though it may be limited to New South Wales and the ACT unless other states move to live with the virus as well.
Why lift restrictions on outdoor activities and vaccinations?
It makes sense to use outdoor settings and individual and population vaccination protections to progress on this road to managing transmission risk.
Even with these rules in place, living without vaccination is now a huge risk – 204 people in hospital this week, and only 1% of these have been fully vaccinated.
The Vaccine Passport will not be a permanent fixture, but it allows us to do more work than ever before.
---
Read more: Vaccine passports are coming to Australia. How will they work and what will you need them for?


---
But it could be worse – or better
It's important to recognize that the steps along the way may look a little different depending on the number of cases, perhaps for the better.
As Doherty Modellers reported last week, lower case numbers will put us in a better position as we begin this transition. So the more transmission we have during the lockdown, the smoother the road ahead and the least impact on hospitals.
The immediate challenge has not changed. We still need to do everything possible to stop the case count from rising and if possible bring them down. We still need to get the vaccine as soon as possible and expand coverage to people 16 to 80% and above.
What has changed is that we can clearly see where we are headed and our hard work to prevent further waves while waiting for the vaccine roll-out now translates into more freedom in the months to come. has occurred.
This is a critical transition period that will test us all, and it helps to see vaccination levels that could provide some relief within reach after a grueling 18 months. With the end of this "pre-vaccine" phase, a final push to control transmission on this last segment makes it a safer and faster route through the gateway to live with the virus.
If we do better than Burnett modeling, testing when symptomatic, vaccinated or not, and following the rules, we'll be well under predictable case and death counts.
Victoria and NSW are watching and learning from each other as each state eases lockdowns while maintaining levels of control over the virus. The success will reassure other states and territories how it can work, and will allow Australia to be open for business once again.
---
Read more: NSW could risk second major COVID peak by Christmas if restrictions ease too early


---
*Correction: This article originally stated that masks would only be needed outside. This has now been corrected.
This article is republished from – The Conversation – Read the – original article.