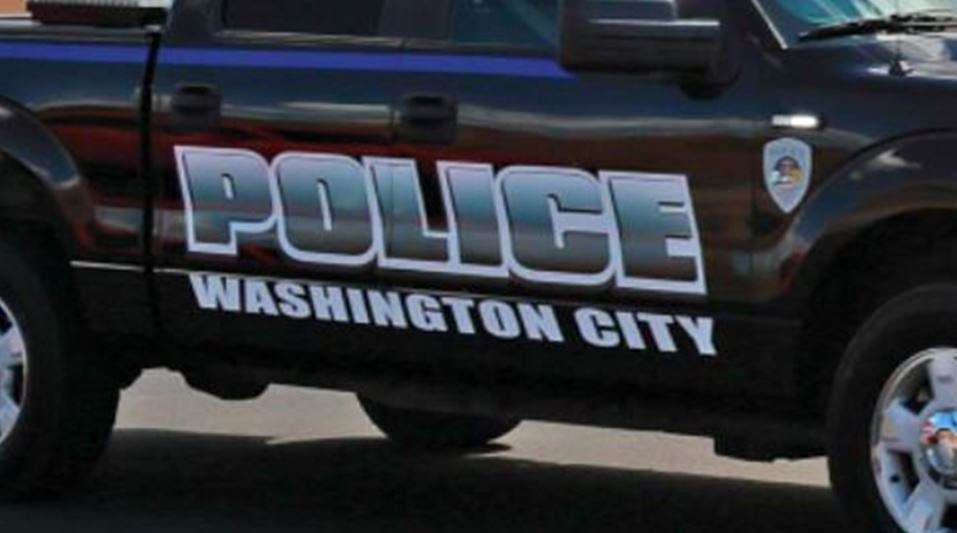 WASHINGTON COUNTY, Utah, Sept. 24, 2023 (Gephardt Daily) — A California parolee allegedly fled from police in a stolen vehicle Saturday night, leading officers on a high-speed chase in a pickup truck later found to have inside illegal drugs.
An officer with the Washington City Police Department was stopped on Interstate 15, near mile marker 8, when a white Ford pickup drove past his location. An automatic license plate reader on the police car showed the Ford pickup was listed as stolen from California.
The officer pulled off the highway and found the truck at mile marker 10, stopped at a traffic light.
"As the traffic light turned green the vehicle continued to travel South on Green Springs Drive," said arrest documents for the pickup's driver, 42-year-old Jonathan Valdivia Garcia, Jr.
The pickup pulled into the Petco parking lot, and the officer activated his emergency lights and siren.
The chase
"I observed the driver … started throwing his hands in the air and pulled over. As I tried to get out of my patrol vehicle Jonathan put his left hand on the driver's window and ignored me with his middle finger. Jonathan then began traveling at a high rate of speed through the parking lot and entered Telegraph Street and began traveling East at a high rate of speed.
"Because Jonathan was traveling at a high speed and without any concerns for the innocent driving public, I decided to stop the chase. Then I started traveling behind the suspect vehicle without lights and sirens from a long distance.
The driver ran two traffic lights before leaving the officer's sight, the probable cause statement said. Another Washington City Police officer saw the truck at 200 E. Telegraph St., "and observed as he used the vehicle to travel through a fence at approximately 550 North 200 East. When Jonathan broke the fence, he entered I-15 and began traveling North on I-15 at approximately mile marker 11."
Valdivia Garcia was then seen by a Utah Highway Patrol trooper leaving I-15 at exit 13 and beginning to travel South on I-15, the statement said. He was then seen leaving I-15 once more at mile marker 10 heading south, his arrest documents said.
"Jonathan was then tracked using (a) street camera by dispatch and was last seen in the area of ​​Buena Vista and Cactus Lane. After a few moments, Sgt. Bartruff with the WCPD was able to move the suspect vehicle and the Utah Highway Patrol began a pursuit
suspect vehicle at the location of I-15 mile marker 11 northbound.
The arrest
"The suspect vehicle continued north on I-15 until mile marker 16.5. The suspect vehicle attempted to use an emergency turnaround dirt road and became stuck in the dirt. A UHP trooper then used his patrol vehicle push bumper so that the suspect vehicle cannot avoid."
The driver was ordered to exit the vehicle.
"Jonathan did not comply with law enforcement commands and refused to exit the vehicle for more than 10 minutes," the arrest documents said. "Jonathan eventually got out of the car on his own and was safely taken into custody without incident."
Post Miranda, "Jonathan said he bought the car from a man named 'Tridan' but Jonathan did not know his full name. Jonathan stated that he initially agreed to buy the car for $50,000, but he only paid $10,000. I asked Jonathan if it was strange that he (could) buy a car worth more than $60,000 for $10,000, and Jonathan said yes.
"I then asked Jonathan why he was running away from so many Officers in the car, and he said he was scared. Jonathan also informed me that he is currently on parole in California, but I could not find his Officer at Parole.
An inventory of the stolen truck turned up a pipe containing apparent methamphetamine, a clear plastic bag containing a crystal-like substance consistent with meth, and a container containing a tar-like substance consistent with heroin, the document states.
Valdivia Garcia was booked into the Purgatory Correctional Facility for investigation of:
Receiving or transferring a stolen vehicle, a second-degree felony
Failing to stop or respond to a police order, a third-degree felony
Two counts of possession of a controlled substance schedule I/II analog, a class A misdemeanor
Reckless driving, a class B misdemeanor
Use or possession of drug paraphernalia, a class B misdemeanor
Driving on a suspended/revoked license for qualifying circumstances, a class B misdemeanor
Failure to perform duties in motor vehicle accident/property damage, a class C misdemeanor
He was ordered held without bail.