We have seen the famous Lifestyle off-roader in some harsh conditions and this is another perfect example of how it behaves in extreme conditions.
This video clip of a Mahindra Thar drifting in the snow is the reason for its massive popularity. The Thar has been designed keeping in mind the inclement weather and the risky terrain. This is the reason why the waiting time on Thar was so long throughout the last year. Even now, it has a long waiting period for some variants in some cities. It is very satisfying to watch these drifts in the thick snow and it is a testament to the capabilities of Thar.
You may also like: This old Mahindra Thar is 30% more powerful than the latest model
You may also like: Watch YouTuber Paras Thakral gift a Mahindra Thar to his wife
Watch Mahindra Thar Drift in Snow
The video clip has been uploaded to YouTube as shorts. The Galaxy Gray colored Thar with a soft top is creating all kinds of movement in the mountains surrounded by snow-capped peaks. The exact location of this event is not known but it could well be in the northern region of the country. The snow inside the alloy wheels is visible after a long period of hard driving and drifting. The video shows an open area with thick snow which is a perfect playground to test the snow handling capabilities of the popular SUV. However, we must urge you not to perform such stunts on your own as they can be extremely unpredictable and dangerous if the vehicle spins out of control.
You may also like: New Force Gurkha Comparison with Mahindra Thar in Harsh Spiti Locality
Glasses
Thar comes with 2 engine options, a 2.2-litre turbo-diesel and a 2-litre turbo-petrol. The oil-burner makes 130 PS/320 Nm of peak figures while the petrol makes 150 PS/ 320 Nm of maximum figures. Transmission options for both the powertrains are a 6-speed manual and a 6-speed automatic with a lower range box. You also get a transfer case and a mechanical locking center differential. As far as off-roading trips are concerned, you are covered on all fronts in the Mahindra Thar. Thar prices are in the range of Rs 13.53 Lakh to Rs 16.03 Lakh ex-showroom. The only direct rival is the Force Gurkha which recently got a new-gen upgrade as well.
You may also like: Mahindra Thar Superhero NFT raises Rs 26 lakh for charity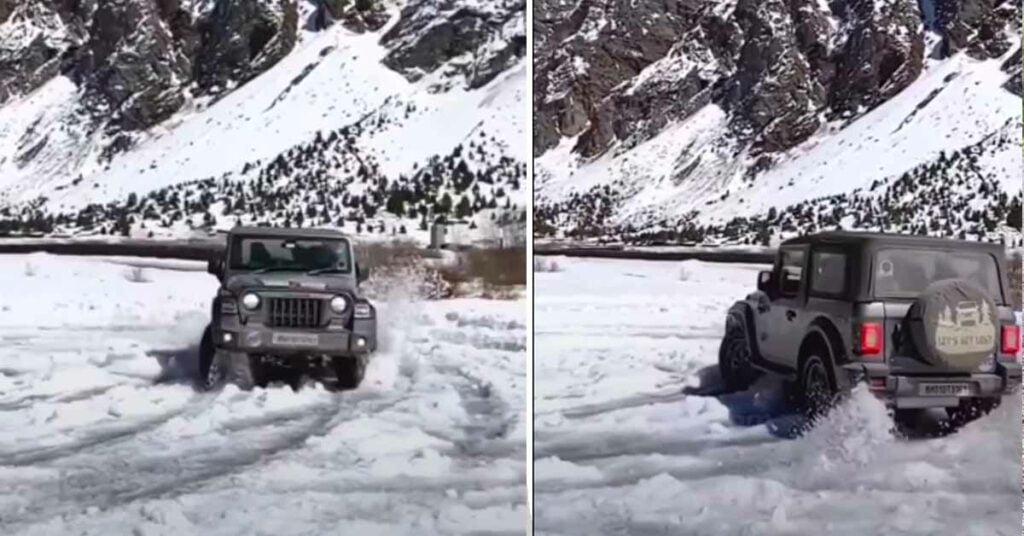 Share your experience with off-roading adventure in your Mahindra Thar. Have you ever done such stunts in your car?
Join our official Telegram channel for free latest updates and follow us here on Google News.