It was just before rush hour on August 23, 2017, when the Bogota, Colombia, district police and SWAT group came to the gangs of El Cartuchito, an area with a powerful illegal drug trade and open consumption of bazuco, a similar cocaine derivative. to crack. Dressed in anti-riot gear and armed with batons and tear gas, police were dispatched, the city's security department later tweeted, "to reclaim the area for the citizens".
It was the turn. In practice, the police actually not only evacuated the drug gangs, but also people who made them illegally guilty of nothing, namely homeless people, people who use bazuco and garbage collectors. These activities, if socially rejected, are not crimes in Colombia, including possession of drugs for personal consumption.
After forcibly removing them all from El Cartuchito, police gave residents a plastic clip bracelet, which allowed them to return to the neighborhood.
The raid was just the latest aggressive operation to "clean up" Bogota. According to the city's department of security, in 2016 15 such raids on three "ollas, "Or open-air drug scenes. Mayor Enrique Peñalosa, who took office in 2016, insists the repression is a necessity for public safety because Bogota's ollas have become "operational centers for organized crime" where children are subjected to "massive sexual exploitation."
It is true that Bogota faces a real security challenge in places like El Cartuchito, where murder rates are acutely high. Along with other researchers, I have been talking to people in the ollas for years about how the city can keep residents, including homeless children, safer. But it is clear to me that a strategy of violent displacement is followed by investment and gentrification is not the answer.
Expose the 'be'
The El Cartuchito attack was soft compared to what Peñalosa's administration unleashed last year in an area called El Bronx. In May 2016, SWAT teams stormed downtown's streets in the middle of the night, along with child protection services and other city agencies.
Police resurrected sleeping homeless residents, often violently, and picked up at least 2,000 people (estimates differ widely) and chased them in trucks, en route to an unknown location.
Those who refused to go were gradually expelled from the area, first into a plaza, then into surrounding ollas and finally into a canal bed in Sixth Street.
There, police detained hundreds of people for weeks. At night, Bronx outlaws told me the officers would form a cordon to prevent them from leaving the canal. Every third night, according to testimonies, the police forced this group to move up or down the canal, apparently arbitrarily. I spent a night in the canal and witnessed the confinement and sleep deprivation strategy first hand.
During one heavy rainstorm, several homeless civilians were washed away; one was later found dead.
Two local human rights organizations, CPAT and PARCES, whose joint report of May 2017 describes the cruel treatment of El Bronx residents, have filed a complaint against Peñalosa's administration with the Inter-American Court of Human Rights. The case is pending.
Just before the Bronx oppression, in May 2016, the city also cleaned up the Carrilera slum town, burning down cardboard houses and tearing down huts. "What are they doing? The government is stepping on poor people, on homeless people!" said one witness in an interview with the newspaper El Espectador. "They gave us no alternative, like a place to go, a place to live."
Peñalosa's slogan is "Bogotá, better for everyone." But all these raids have made many wonder: Is Bogota really for everyone?
The right to the city
This debate about who belongs in cities lasts a long time. As the feminist geographer Melissa Wright wrote, elite urbanites often equate progress with the disappearance of certain social groups that in their eyes break down public space.
In the 1990s-era New York City, Mayor Rudolph Giuliani cracked down on "quality of life crimes" such as prostitution. More recently, the new mayor of São Paulo, Brazil, João Doria, has razed a large crack scene and homeless campsite in the city center.
Such efforts, sometimes called broken window policing, reflect a belief that, in order to improve security and urban progress, "unwanted" people and low-level crimes must disappear.
In Brazil, the constitution recognizes the citizen's right to the city, so several city agencies have questioned the legality of Doria's raids.
Colombians do not have such a constitutional right, and data measuring Bogota's homeless population is outdated and incomplete (a census of street dwellers is scheduled to begin in October).
People living on the streets of the capital regularly face harassment and police aggression. The Cartuchito and Bronx raids drove homeless residents and sex workers out of the ollas, where most Bogota residents had never seen them, and scattered them (as well as the criminals operating in the ollas) through this eight-million city .
Many people did not welcome their new neighbors, the majority of whom are active drug users. Locals filed complaints, and there were reports of "donated" food being poisoned.
But urbanites and scholars have long recognized the right of every citizen to occupy public space. In an important 2008 article in The New Left magazine, geographer David Harvey wrote that it was "one of the most precious yet most neglected of our human rights."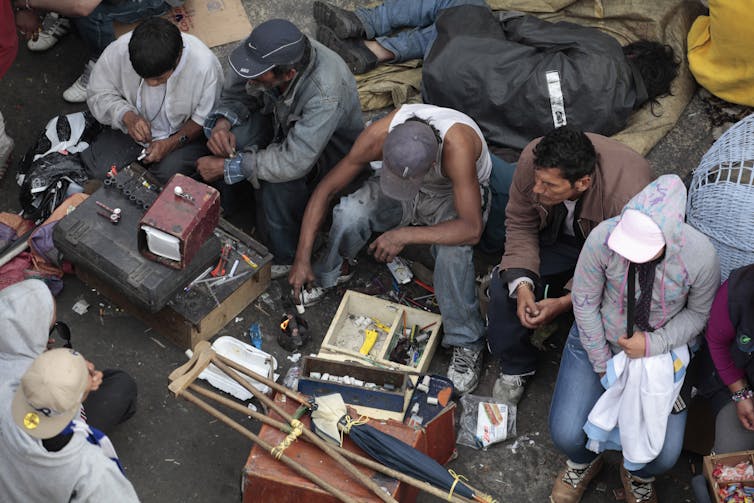 City law was also a theme of last year's United Nations Habitat III conference, which focused on developing a "new urban agenda" for the world.
There is no quick fix to urban inequality, but there are ways to promote progress in cities while respecting the rights of the most marginalized. Programs that provide social services, health care, housing, and employment can help transform the lives of drug users. Meanwhile, harm reduction services such as needle exchange and peer education can reduce risky behaviors.
In a report on El Bronx released by the University of the Andes' Center for the Study of Security and Drugs on September 27, the researchers considered which state-sponsored treatment options would be legally viable in Colombia and recommended exploring experimental health strategies that adapted to the needs of Bogota's bazuco users.
Such efforts began in previous mayoral administrations, and from 2012 to 2016, the city operated mobile drug centers for drug users in El Bronx. But Peñalosa quickly phased out these projects.
Everyone who has been expelled from El Cartuchito, El Bronx, and other "recycled" areas shares one thing: they are all street-connected, meaning that their daily activities take place largely in public. By denying such people their right to the city, officials of Bogota essentially deny them their right to exist.