The price of ApeCoin (APE), the governance crypto asset of the Bored Ape Yacht Club (BAYC) non-fungible token (NFT) project, has fallen significantly over the past seven days.
He The asset's price decline was 16%. Last Friday, the price of APE was $1.33 and currently it is at $1.10, as can be seen in the chart below: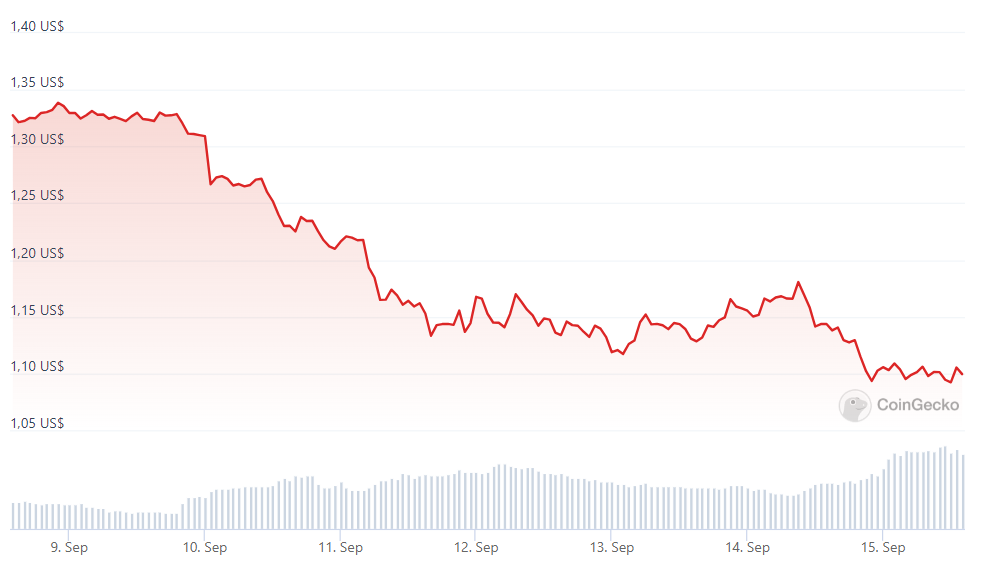 The drop in the price of this token coincides with the decline in sales of BAYC collectibles. The minimum selling price of these NFTs fell by 12% on average. In the same period. According to CoinGecko, the value was at $44,000 seven days ago and has fallen to $39,000.
The Bored Ape Yatch Club is not an isolated case. In general, NFT trading volume is at a minimum after the "NFT mania" of 2021-2022. The following image shows the evolution of this volume on the Ethereum network, where the Bored Ape Yatch Club collection "lives".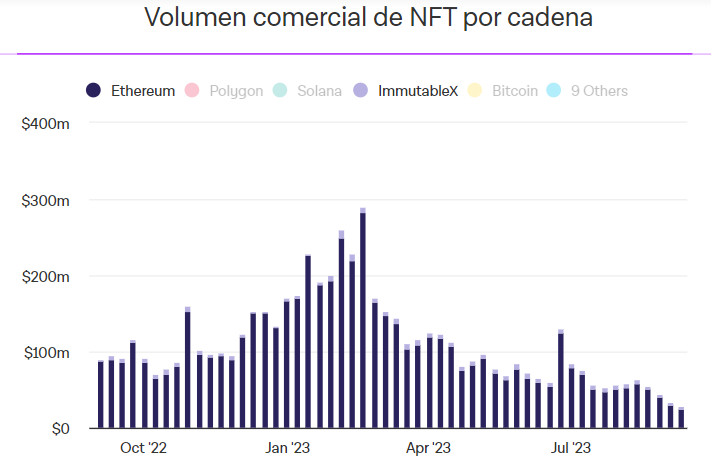 Last July, CriptoNoticias reported that prices for digital collectible projects "Bluechip" or top tier fell 83% from their all-time high. The BAYC collection NFTs fall into this category.
It is not just the lack of interest in collective tokens that is responsible for the downfall of the ApeCoin token. Another reason that leads to the decline in APE is the upcoming unlocking of 40 million of these tokens from the developers according to TokenUnlocks Explorer.
The unlocked tokens represent 10% of the current circulation, which is almost 400 million APE. The tokens They will be published tomorrow, September 16th. and will be distributed to the founders of the Yuga Labs company, the creators of the NFTs and other members of the community.
When an event with these characteristics occurs, the supply of an asset increases. If this is not accompanied by an equivalent or greater increase in demand, then: The price falls due to the simple law of supply and demand.
It can be seen that there will be more unlock events in the future. The total supply of APE tokens will increase by almost 100% by 2025, when distribution ends.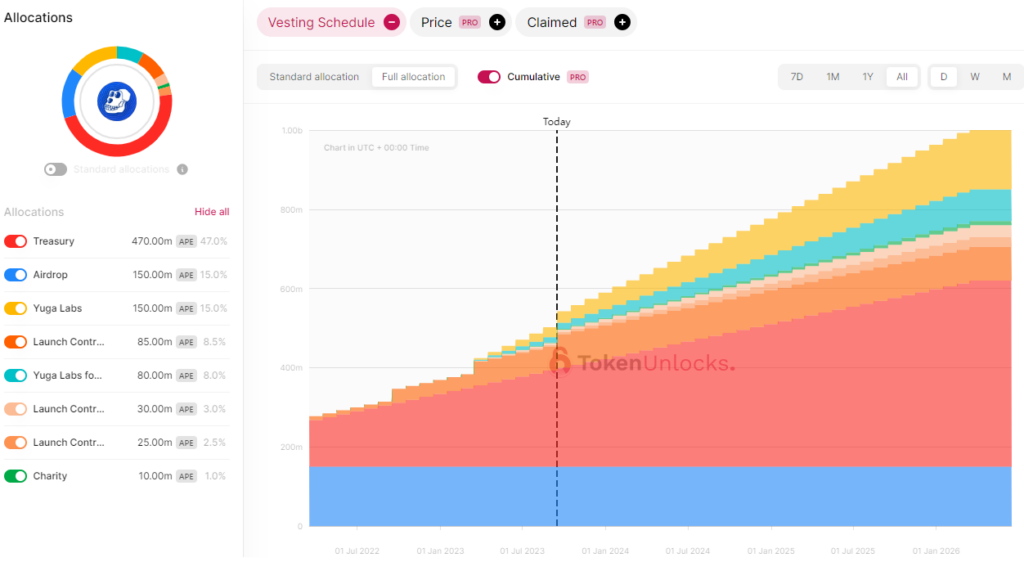 Yuga Labs has made efforts to revive market interest in its NFTs. A few days ago he announced a Timeline for the nomination process for the delegate elections of the organization's Marketing Communications and Metaverse Working Group.
They have that too applied some changes about the initiatives, policies, plugins and procedures to be carried out by moderators (responsible for moderating the community) within Yuga Labs. Moderators must address and identify artificial accounts and counteract this activity. Despite all these positive changes for the project, The price of the token and NFTs does not recover and continues to decline.