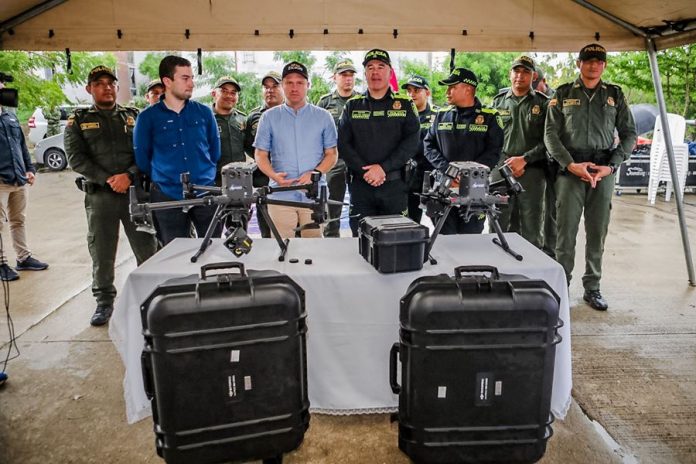 From the Altos de la Sabana neighborhood, north of Sincelejo, Governor Hector Olimpo Espinosa took another action to combat crime and crime, such as the delivery of two high-tech drones to the National Police and a truck to the National Army.
"All criminals can rest assured that wherever they are, we are going to pursue them, we are going to find them and we are going to prosecute them, we are going to set the example in our department that crime does not pay And whoever commits the crime will be punished," Espinosa told Oliver.
These drones are machines that have a high technical component, night vision, high-resolution cameras with a range of 7 kilometers.
Furthermore, he emphasized that in coordination with the public forces he would fight with determination to prevent fear and bloodshed in Sincelejo and Sucre.
"With these drones we will support our police officers, our soldiers on the ground, they will be the eyes of the public force in the air, they will be our eyes in the air."
Mixed Patrol at Sincelejo
In addition, as a result of previous Security Council commitments, mixed patrolling began in Sincelejo, between the police and the Marine Corps, in 22 neighborhoods in the north and south. Similarly, there are 150 more men from the Marine Infantry, 300 new police auxiliaries will join in the coming weeks and the Army has improved its capabilities in the Department South with 150 men.
Likewise, Héctor Olimpo Espinosa specified that recently he distributed about 4,600 million pesos of equipment to the public force.
The actions to strengthen the strategy of public force do not stop here. For this reason, next week an intelligence team will be sent to the Office of the Attorney General of the nation, which is only in cities such as Bogota and Medellin.