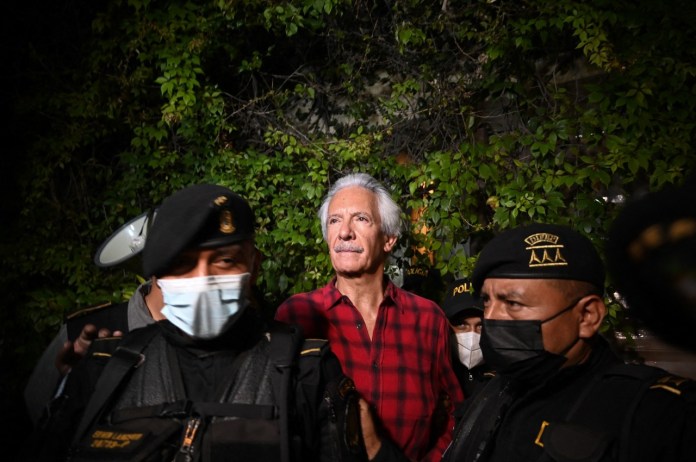 The United Kingdom Minister for Freedom of the Press in the British Foreign Ministry, Lord (Tariq) Ahmed, on behalf of the United Kingdom, expressed his concern over the arrest of Jose Rubén Zamora, the journalist and president of the media outlet Alperiodico, for which he would seek due process and security. Requests a guarantee.
#media freedom, #freedom of speech And #The rule of law important in a healthy democracy. Concerned over arrest in UK #guatemala eminent journalist @chepezmorafounder of @newspaper, We urge the Guatemalan authorities to follow due process and guarantee their personal safety

— Lord (Tariq) Ahmed of Wimbledon (@tariqahmadbt) 3 August 2022
On the morning of this 3 August, Ahmed issued a statement from the United Kingdom, calling on Guatemalan authorities to guarantee Zamora's process and personal security, as well as indicating that freedom of the press and the rule of law remain healthy. important for. Democracy.
The statement said: "Freedom of the press and freedom of expression and the rule of law are vital in a healthy democracy. The UK is concerned about the arrest of noted journalist Jose Rubén Zamora in Guatemala, the founder of Elperiodico. We urge the Guatemalan authorities to follow due process and guarantee their personal safety."
jamora case
On the afternoon of Friday, July 19, La Hora reported a raid on Zamora's home and the offices of the media outlet Elperiodico. Later, he was arrested at his residence in the night. The assistant prosecutor of the special prosecutor's office was also arrested. Against Impunity (FECI) for her alleged involvement in the case against Zamora, Samaritan Carolina Gomez Diaz.
Zamora case: In doubt whether they will remove reservation [https://t.co/BFTy3hvnzM] pic.twitter.com/8smdNO9Qzh

— La Hora Newspaper (@lahoragt) 3 August 2022
According to FECI chief Rafael Kuruchiche, Zamora is charged with alleged offenses of money laundering or other assets, blackmail, influence pedaling, as well as the offenses of motion and conspiracy to launder money or other assets. However, the matter is in reserve.
According to the Ministry of Public Affairs (MP), the Seventh Criminal Court of First Instance had scheduled the hearing of the first statement at 10:00 am on Monday, August 1, however, it has been rescheduled for 2:00 pm today, August 3. Gone: 00 hours, because the Court of Duty did not send the case file to the judiciary.
media accounts
On Monday, August 1, Alperiodico's editor-in-chief, Gerson Ortiz, reported that the outlet's accounts were confiscated at the request of the FECI, despite the fact that Curruchiche had previously indicated that the investigation was based on their performance as one. was consistent. "Businessman." And not as a journalist.