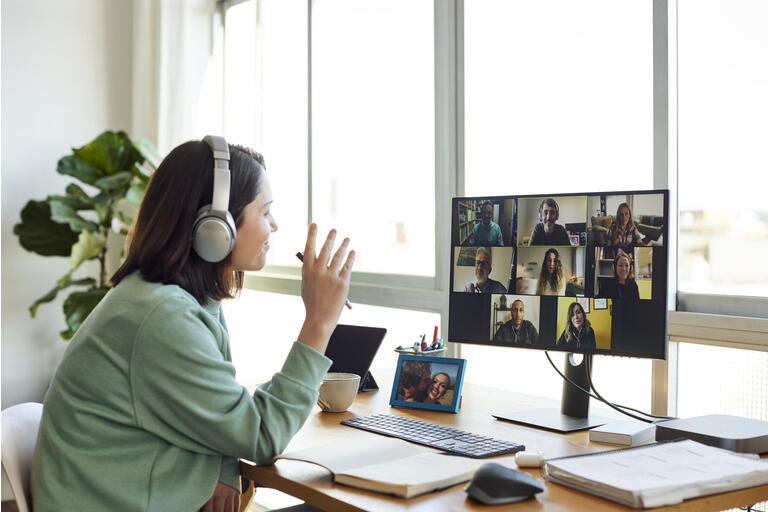 Introduction and Thesis
Zoom Video Communications (ZM) has been Wall Street's darling during the peak of the pandemic. Zoom allowed video communication to be possible when physical meetings were put on hold due to the lockdown. As such, Zoom's service has been an important backbone of our society; However, as lockdowns and restrictions ease, the relevance of Zoom's service going forward is in question. Will school, return to work and post-pandemic life end the tech giant's growth story? While the recent stock price may indicate that the Zoom story is over, I believe otherwise, and I believe Zoom is a buy today.
Zoom's ability to connect people digitally will be of most value even after the pandemic. I believe that the digital trend and adoption seen during the pandemic was not a temporary phenomenon, but a permanent transition to a digital society. Hybrid work schedules or even working entirely remotely will continue, providing a great growth opportunity for Zoom as the company attempts to transition to the communications platform. Furthermore, the recent consolidation of Zoom's valuation makes a potential investment in Zoom even more attractive today.
Why did the zoom drop?
Before going over why I consider Zoom a buy, I'd like to know why the company's stock was completely devastated last year. As the chart below shows, Zoom's stock went through a vicious cycle of verification consolidation. Investors feared that Zoom was only successful because of the pandemic as growth rates started to slow down. It is true that the growth rate (not growth) is slowing down and the company has benefited massively from the pandemic, but I don't think the dramatic drop in these levels today is justified.
The pandemic brought lasting profit to the company. The pandemic not only pushed Zoom's brand recognition to its peak, but it also accelerated the demand for and adaptation of remote working. I don't think everything will be back as the impact of the pandemic and the changes brought about by it were enormous.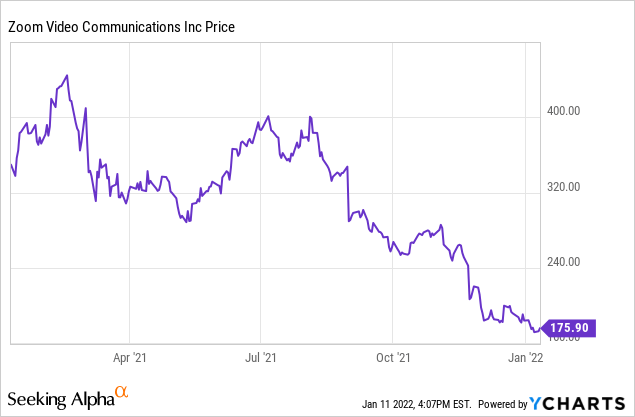 [Chart created by author]
underlying trend
One of the biggest reasons why Zoom remains relevant in our society is the massive transitional change in how we work. There is a lot of debate today about whether hybrid work or remote work will continue to increase once the pandemic is over, but the data so far suggests this trend is permanent. Apple (AAPL) has indefinitely halted return to office, while Meta (FB) has an office deferred program where employees can work remotely for months at a time. Microsoft (MSFT) and Google (GOOG) are doing hybrid work where employees are in the office for some days and at home for the rest of the week. As such, one of the largest companies in the world is showing that remote and hybrid work is here to stay. I believe that even smaller companies will adapt to flexible work schedules to retain talent by satisfying employees, while reducing the cost of maintaining office space.
During the annual Needham Growth Conference, Zoom's CFO Kelly Steckelberg described the current event as an "interesting phase of transition" where investors and companies try to figure out what the future of work will be, and Kelly is confident. That's the ability of Zoom to provide ease. Communication will be an important part of the job. The proof of concept phase has been successful during the pandemic, brand recognition is at its peak, and companies have realized the efficiency of remote communication. It is easier and faster to communicate digitally, and companies have realized that conferences can also be held online. For this reason, Kelly believes there will be continued demand for digital communication solutions even after the pandemic.
communication platform
To fully take advantage of the profitable underlying trend, Zoom strives to be more than just a video communication service. The company is striving to be the go-to for all digital communication becoming a communication platform through additional services including the Zoom phone and Zoom Events. I believe these accompanying services have the potential to cross-sell, up-sell and reduce customer acquisition costs.
Zoom events and phones play a vital role in making Zoom more relevant in the field of digital communications. During the pandemic, it has been proven that online and in-person events have their advantages. Online events allow more people to participate, making it easier for organizers to maximize their audience. Thus, Zoom believes that there is an unmet demand for hybrid events where personal and virtual events are held concurrently. Zoom believes it can play a key role in making this happen as the boundary between physical and digital communication is gradually blurred. Furthermore, Zoom Phone is an integrated app where it combines Zoom meetings, chatting and presenting into a single platform. A user can place a call on Zoom using their business phone number or transfer an existing phone call to a Zoom meeting. The commercial application and potential of this service could provide even greater opportunities.
In terms of marketing, the public knows about Zoom's video conference service, but not much is known about these new services. Thus, according to Kelly, Zoom will focus its marketing efforts on these specific services rather than promoting its brand as a whole. The pandemic has already done a great job of promoting the brand, so the company will now focus on developing these niche services.
wrap
These services being provided by Zoom may not sound exciting nor does it look like the future. It seems as though these services already exist and have been commoditized. However, these services are so deep in our lives that we don't realize how exciting and valuable it is. Digital communication is one of the most important technology and services for almost all organizations, and for this reason, I believe that the demand for these products will continue to grow even after the pandemic. There is certainly value in the services provided by Zoom.
competition
One of the biggest risks and concerns for investors is the competitive risk from Microsoft's Teams. However, I don't think the competitive threat will hinder Zoom's long-term growth. Zoom already captures about 60% of the market, and because the company name Zoom is often used as a verb, I think it will continue to lead. For example, "Let's Zoom", often used digitally like the phrase "Google it", reflects Zoom's brand strength in this related field. Once a company name is used as a verb, I believe that brand recognition and customer loyalty make it extremely difficult for another competitor to overthrow that company, even if The challenger is Microsoft.
slow growth rate
Despite all the positive trends and fundamentals, the fact that the growth rate for Zoom is slowing is causing concern. For example, fourth quarter revenue is expected to be similar to the company's third quarter revenue. However, this is nothing to worry about. Zoom, during the pandemic, saw massive growth which, in my opinion, made year-on-year or even quarter-on-quarter growth difficult for the first few quarters coming out of the pandemic. forward the demand. Zoom has grown by about 585% since the quarter ended January 2020. It is more common for a relative increase than to weaken before normalizing again. As such, investors should watch management's 2023 fiscal year guidance carefully for signs of growth. It is absurd to believe that the growth rate of the pandemic will remain the same.
financial and valuation
Zoom has an attractive valuation and financial position today. The company is currently worth $51 billion with a forward price-to-earnings ratio of approximately 35. Since the start of the pandemic, M2 growth has outpaced normal levels as capital concentration in the financial markets has been fueled by increased interest in the market. , Thus, considering these factors, I don't think a forward price to earnings ratio of 35 is expensive, especially since the company has a favorable underlying trend working towards them. In addition, gross margin and operating margin are indicating that the business is becoming more efficient. Gross margin increased by 750bps to 74.2% while operating margin increased by 295bps to 27.7%. With further acceleration in margins and revenue growth, I think Zoom's valuation today is favorable.
Financial health or balance sheet is also in good condition. Zoom's total current assets include approximately $6.1 billion in cash, which includes approximately $1.3 billion in cash. In addition, the company had approximately $7 billion in total assets and total liabilities of $1.9 billion, which combined total shareholder equity of approximately $5.1 billion and a total liability-asset ratio (L/A) of about 24.3%. The financial operations of the company as well as the balance sheet were in healthy condition. Revenue increased approximately 35% year-over-year to approximately $1.05 billion, while net income increased approximately 72% to $340 million. Zoom has a good balance sheet with growing margins and decent net income; As such, I believe the company's financial health is very good and able to support the company's future growth.
Summary
Zoom's stock has underperformed on fears of slowing growth and changes in the digital communications market. The slow growth is largely the result of one-time pandemic gains that drove demand for months or even years, and the idea that digital communications are going to decline once the pandemic ends doesn't sound right. I believe demand for digital communications will continue to grow and Zoom's platform strategy is well positioned in the market. So, given these reasons and Zoom's market leadership, I think Zoom is a buy.